Photo Gallery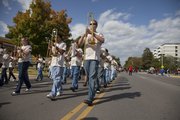 LHS Homecoming 2009
Pictures from Lawrence High School's homecoming festivities.
Lawrence High's football team found a new way to lose a game Friday night.
During the first four weeks of the season — all losses — the Lions saw inefficiencies on offense and defense lead to their demise. Friday night, in a 26-23 setback to Olathe South at LHS, it was special teams that let the Lions down.
"Special teams hurt us all night," LHS coach Dirk Wedd said.
Of the four Olathe South touchdowns, three were set up by huge returns in the kicking game, including a 70-yard punt return by Kendal Harland late in the third quarter that set up a two-yard TD run from Nick Sands that gave the Falcons the lead for good.
Until that point, the Lions had outplayed the Falcons and controlled most of the game. LHS opened the contest with a drive for the ages. It covered 71 yards in 19 plays — all runs — and shaved more than 11 minutes off the clock. The monster drive was capped by a one-yard touchdown run from Tyrae Jenkins (32 carries, 151 yards) and used all but 53 seconds of the first quarter.
"That's Lawrence High football," sophomore running back Jeffrey Belaire said. "It might not be what people want to see, but it's what we do."
The smash-mouth drive also drew high praise from the guys in blue and gold across the field.
"I'll tell you what, anybody who knows anything about football knows that that was football," Olathe South head coach Jeff Gourley said. "It might not have been pretty, it might not have been flashy, but by golly we didn't get the ball until there were 53 seconds left in the first quarter. That's the best 0-4 football team I've ever seen."
While Gourley and crew were lamenting the Lions' effectiveness on the opening drive, the LHS players simply were focused on what was in front of them.
"Anybody's blockable," junior offensive lineman Jamal Brown said. "I'm just hitting anybody that comes across my face. I'm just trying to help our backs get yards and our team get points."
For most of the first half, Brown's simplistic plan worked to perfection. On more than one occasion in the first half the 6-2, 350-pound tackle occupied two Falcons with the same block. The rest of the LHS O-Line followed his lead, and that produced back-to-back scoring drives to open the game.
After a key stop on fourth down killed the Falcons' opening drive, LHS rolled up a more pedestrian 12-play, seven-minute scoring drive and suddenly led, 15-0. After following Brown and Co. down the field for 58 yards, LHS scored its second TD on a seven-yard bootleg run by junior quarterback Chris Gaston. The call for the bootleg came at the perfect time, as the Falcons attempted to plug the middle and left no one outside to contain Gaston, who walked into the end zone untouched.
"At that point, I thought we had it," said Belaire, who ran 17 times for 63 yards and a touchdown. "I know we still had two more quarters to play, but that two-touchdown lead felt good. This one brought tears to my eyes because we had it in our hands."
The next six minutes might have determined the outcome. Instead of protecting their lead and looking to add to it in the second half, the Lions let the Falcons score twice in the second quarter — on a 34-yard run by Harland and a 22-yard pass from Tanner Dutton to Marquis Addison with 20 seconds left in the half — and were forced to play from behind for much of the second half.
The Falcons scored 26 unanswered points before LHS found the end zone again on Belaire's one-yard TD run with 2:46 to play. That capped an 80-yard, 15-play drive that gave the Lions a chance. The LHS defense responded by stopping O-South (3-2) three-and-out on the ensuing drive, but a 53-yard punt from Brad Gourley pinned LHS (0-5) at its own one-yard line with 2:16 to play. The Lions advanced as far as their own 25, but could not produce a game-winning drive.
"The kids are starting to be sold on doing things the right way and playing with great effort every snap," Wedd said. "We have 26 state championship banners hanging in the gym, and we're never going to accept moral victories. But this group took a huge step forward tonight."
Copyright 2017 The Lawrence Journal-World. All rights reserved. This material may not be published, broadcast, rewritten or redistributed. We strive to uphold our values for every story published.