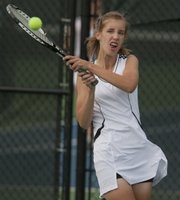 Never before has Lawrence High senior Jordan Payne appreciated the fluorescent green color of a tennis ball.
Wednesday night at Lawrence High's final home quad of the season, Payne and three other Lions braved darkness to the end and were forced to finish their final matches indoors at First Serve, the Lions' temporary home court.
"You couldn't see the ball until it was about to bounce," said Payne, who won two doubles matches earlier in the day but fell in her only singles match of the night. "When we moved inside, it was definitely a big adjustment. We went from barely being able to see the lines to stark brightness."
Although the results varied for the four Lions who finished indoors — doubles partners Morgan Manger and Arianne Suchy and singles player Elizabeth Simons joined Payne inside — the team came away with a second-place finish, coming in ahead of Shawnee Mission Northwest and SM West and finishing one point behind Blue Valley West.
"This was a good lead up to the league tournament," LHS coach Steve Hudson said. "Good preparation."
Fortunately for the Lions and the rest of the Sunflower League, Friday's meet likely will be completed before the sun goes down.
Although that wasn't the case for all of the Lions on Wednesday, it was for a couple of them. The No. 1 doubles duo of Jamie Jarrett and Taylor Eubanks won all three of its doubles matches, winning 8-4 against SMW, 8-5 against SMNW and 8-0 over BVW.
Simons and Payne joined them in winning the two doubles matches they played — 8-4 vs. SMW and 8-5 vs. SMNW — and Manger finished 1-1 in her singles matches while Suchy lost both of hers.
At many duals this season, a handful of the LHS girls had been asked to play either singles or doubles but not both. Wednesday, everyone but Eubanks and Jarrett mixed it up, which led to varying degrees of appreciation.
For Suchy, the open format allowed her a chance to test her skills in both areas of competition.
"I prefer singles," Suchy said. "But I'm much more relaxed in doubles. This is a lot of fun, though, because you get a lot more experience with a bunch of different players."
Added Hudson: "That's the one advantage of a quad; you can mix and match your lineup depending on who you're playing. I really wanted to see our No. 1 doubles team (Jarrett and Eubanks) play Shawnee Mission Northwest because we'll likely see them at our regional."
That comes Oct. 8 in Kansas City, but first the Lions must tackle Friday's league meet at Leavenworth. Of course, that's all contingent on them being able to get past the crazy finish that took place Wednesday. In addition to having half of its team finish the quad inside, those who stayed to the end were treated to the mother of all rallies, perhaps the longest point in LHS tennis history.
Leading 7-4 in her singles match against BV West's Stephanie Chen, Simons battled through nearly six minutes of action and 95 total strokes on match point.
"The other girl was like a human backboard," Hudson said. "So Liz finally just said she wasn't going to play another game and she was going to get everything back, too."
Eventually, on the 95th stroke of the point, Chen's shot went wide, and Simons won, 8-4.
Copyright 2018 The Lawrence Journal-World. All rights reserved. This material may not be published, broadcast, rewritten or redistributed. We strive to uphold our values for every story published.