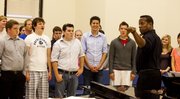 Past Event
When: Sunday, December 6, 2009, 7:30 p.m.
Where: Lied Center, 1600 Stewart Drive, KU campus, Lawrence
Cost: $5 - $7
-->
-->
Past Event
When: Thursday, December 10, 2009, 7:30 p.m.
Where: Lied Center, 1600 Stewart Drive, KU campus, Lawrence
Cost: $10 - $12.50
-->
-->
Nicole Smith knows how important the Kansas University Holiday Vespers program is.
"This whole production is for the audience," says Smith, a senior from Las Vegas. "It's for the people who love to come out and feel the holiday spirit. We put this on for them, and we make sure things are just right."
The Holiday Vespers celebrates its 85th year with two performances Dec. 6 at the Lied Center.
But this isn't the same old Holiday Vespers. This year's show will include a guest appearance by former KU choir director Simon Carrington. And KU will take the show on the road, performing it for a crowd at Johnson County Community College.
"We want people to enjoy themselves and start the season out with a bang, so to speak," says Paul Tucker, KU's director of choral activities.
The concert has been a favorite holiday tradition for decades, featuring the musical talent of the KU Symphony Orchestra and Symphonic Chorus, under the direction of Tucker, as well as a variety of KU vocal ensembles.
The concert typically features both traditional holiday favorites and newer works. Audience members can join in the fun with a sing-along.
Tucker has many surprises in store for this year's performance, including pre-concert caroling by the KU Children's Choir, directed by Debra Hedden.
This year, the KU choral department is expanding the annual concert to include a show in Johnson County. This new addition, dubbed KU Vespers: On the Road, is expected to draw a large crowd from the surrounding Johnson County community. In an effort to extend the holiday cheer to the entire community, KU Vespers: On the Road will be free to the general public, but calling ahead to reserve seats is highly recommended. Erin Curtis-Dierks, communications coordinator for the KU School of Music, hopes that this addition will become another tradition for Vespers.
"We wanted to provide outreach to Johnson County, it's another way to get our name out there and get our students out there," Curtis-Dierks says. "We hope it's successful and we can continue to do it. It's such a popular holiday event."
The holiday concert will also welcome a special guest to its ranks this season, when Carrington takes the podium to direct portions of both the Lawrence and Johnson County performances. Carrington, who now lives in France, served as choral director at KU from 1994-2001, is a highly sought-after guest conductor who recently retired from Yale University. Tucker invited a group of former Carrington students, now involved in Kansas City-based choral group Octarium, to perform as special guests along with Carrington during "O Holy Night."
"Since I came to KU, Simon's name has always been brought up to me. Bringing him back all the way from France is a wonderful opportunity," Tucker says.
For students such as Smith, who have been working on the program since early October, it's all worth it because of the reactions of audience members.
"It's a lot of work, and a lot of long nights," Smith says. "But in the end, we're always pleased to see everyone enjoyed it so much. They shake our hands and tell us they feel in the holiday spirit."
Copyright 2018 The Lawrence Journal-World. All rights reserved. This material may not be published, broadcast, rewritten or redistributed. We strive to uphold our values for every story published.