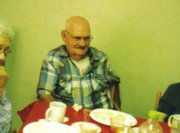 A Perry man who was reported missing has been found, the Perry Police Department announced Friday afternoon.
A silver alert had been issued for Oliver "Richard" Goza, 77, who had last been seen at 10 a.m. Thursday.
Police said they located him driving eastbound on U.S. Highway 24, near the intersection of Kansas Highway 4 about 1:45 p.m. Friday.
Copyright 2018 The Lawrence Journal-World. All rights reserved. This material may not be published, broadcast, rewritten or redistributed. We strive to uphold our values for every story published.