Photo Gallery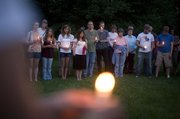 Vigils held in Lawrence, Wichita for George Tiller
Hundreds gathered in Wichita and more than 100 people gathered in Lawrence for vigils to remember George Tiller, who was shot to death outside his church Sunday morning.
More than 150 people came to South Park in Lawrence on Sunday night and hundreds turned out in Wichita's Old Town to remember George Tiller, the late-term abortion provider who'd been at the center of protests for decades and was killed Sunday morning. A five-minute moment of silence was observed at 8:45 p.m. at gatherings around the state.
In Lawrence, Kansas Sen. Marci Francisco and others spoke to a crowd that gathered with candles, some members with white ribbons tied around their arms. Janet FitzGerald brought a sign to the event that equated the man who killed Tiller to a terrorist, hypocrite and coward.
Francisco discussed the stories she had heard about Tiller.
"The stories that I was told were stories of families that he helped," said Francisco. "Stories about adoptions he had arranged, stories where families were concerned about health of a daughter. I hope that those are the stories that we are telling as we talk to people in these coming weeks."
Thad Holcombe, minister at Ecumenical Christian Ministries, encouraged those in attendance to "be of good will and seek justice."
"Be people of peace. Be the ones that witness the compassion. Be the astute ones, the political ones in the midst of our society, challenging those who think otherwise. And always be ones that know we need one another," Holcombe said.
Among concerns of those at the vigil: Who will pick up where Tiller left off, and what will come next for his supporters.
Jake Lowen, who helped organize the vigil, urged people to consider a role in Tiller's cause, such as volunteering at a clinic or making a financial contribution to organizations that "support reproductive freedom."
"Whether it's simply committing themselves to not being part of the hate that led to Dr. Tiller's murder today," said Lowen, "any gesture, however small, I think will have a positive impact."
-->
Copyright 2018 The Lawrence Journal-World. All rights reserved. This material may not be published, broadcast, rewritten or redistributed. We strive to uphold our values for every story published.