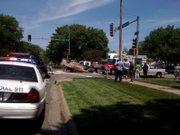 A Wellsville teenager and a Eudora man were taken to area hospitals after a head-on wreck Monday afternoon on County Road 458 southwest of Eudora.
It was the most serious of three wrecks in a 20-minute span in Douglas County that kept law enforcement and medics busy. Two other wrecks occurred before 1 p.m. in central Lawrence.
Sgt. Steve Lewis, a Douglas County Sheriff's spokesman, said the accident southwest of Eudora occurred about 12:40 p.m., when Nicholas Mann, 18, of Wellsville, was driving a Ford Taurus east in the 1800 section of County Road 458.
Mann's vehicle drifted left of the center line as it approached a pickup truck, driven west by 72-year-old Everett Farmer Jr., Eudora. Lewis said both drivers tried to avoid a collision, but in the process, the vehicles struck head-on.
Medics transported Farmer to Lawrence Memorial Hospital, but his injuries were not believed to be life threatening, Lewis said. Firefighters extricated Mann from his car, and he was flown via helicopter ambulance to Kansas University Hospital in Kansas City, Kan.
Sheriff's officers were still investigating what caused Mann's vehicle to drift into the oncoming lane, Lewis said.
Minutes before that accident, a tan pickup truck, headed east, ran a red light at 11th and Kentucky streets and collided with a silver Jeep that was headed north on Kentucky Street, said Sgt. Bill Cory, a Lawrence police spokesman.
The truck then spun into the intersection and landed on a City of Lawrence public works pickup truck that was waiting to turn right from 11th Street onto Kentucky Street. Cory said only minor injuries were reported at the scene, but two people were taken to LMH as a precaution.
Finally at 1 p.m., a white Ford Thunderbird was headed east on Ninth Street and made a left turn onto Michigan Street in front of a westbound green four-door car, Cory said. The cars collided, and eventually, after all passengers exited the vehicle, the Ford caught fire. Firefighters extinguished the blaze.
Minor injuries were reported due to the wreck, and at least one person was taken by ambulance to LMH. Lawrence police were still investigating both wrecks and had not yet completed the full accident reports, Cory said.
Copyright 2018 The Lawrence Journal-World. All rights reserved. This material may not be published, broadcast, rewritten or redistributed. We strive to uphold our values for every story published.