Photo Gallery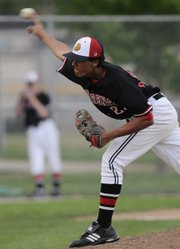 Lawrence High baseball vs. Shawnee Mission East
Dorian Green wiped whipped cream from his face and smiled.
He had just been pied as part of a lively Senior Night sendoff at Ice Field on Wednesday, and gobs of the sugary confection still stuck to his mug.
But Green couldn't find much reason to complain. It marked the end to an evening in which his last-inning pitching performance proved just as sweet.
Green closed out Lawrence High's nailbiting 6-5 wood-bat baseball victory against Shawnee Mission East, entering in relief in the seventh inning with two runners on and nobody out and escaping unscathed.
With the victory, Lawrence moved to 15-4 overall and earned a share of the Sunflower League title with Free State. Both teams finished the regular season 10-1 in conference play.
Green said he spoke with the coaching staff earlier in the contest to see if he might take the mound.
"They said, 'The only way you're going to pitch is if we absolutely need you,'" Green said.
As it turned out, that's exactly how Wednesday's game played out.
In the seventh inning, LHS coach Brad Stoll sent senior Mitch Whitson to the mound — the last of nine LHS seniors to make an appearance on Senior Night — with Lawrence in front, 6-3.
Whitson allowed a leadoff home run, a walk and two singles before being pulled in favor of Green.
"The kid deserved the chance to pitch," Stoll said of Whitson. "He was throwing strikes. They were just putting good swings on it. It's not his fault at all."
Stoll said he had hoped not to send Green to the mound, saving him for possible innings today when Lawrence takes on Free State in a nonconference game at Hoglund Ballpark at 7 p.m.
"But it was like, 'Hey man, this game is too close for comfort,'" Stoll said. "'Let's go with the guy who everybody on the team wants to see with the ball in his hands.'"
Green promptly recorded two strikeouts and sent the game's final batter down looking.
But it was catcher Jake Green's caught-stealing throw between those outs that may have been the biggest play of the game.
After Dorian Green struck out right fielder Stewart Jensen for the first out, Jake Green snapped a throw down to Clint Pinnick at third, who tagged out SM East base-runner Dylan Becker attempting to steal.
Instead of two runners in scoring position with one out, SM East had one runner at second with two outs.
"That was a huge momentum-builder and killed their momentum completely," said LHS senior shortstop Aaron Rea, who clubbed a home run in the fourth inning. "After that, I knew it was over."
Jake Green also pegged out SM East base-runner Alex Cox on a pickoff throw down to second base in the fifth.
"I've played catcher for as long as I can remember," Jake Green said. "It's instinct, and we work on it all the time. It's really just second-nature, kind of."
Andy Urban earned the win and worked five innings, allowing just one run and striking out four before exiting with a 4-1 lead.
Wednesday's game was played with wood bats, a Lawrence-SM East tradition dating back to Stoll's first season as LHS coach.
Today, it's back to aluminum when the Lions and Firebirds play in the regular-season finale.
"This is a good accomplishment," Dorian Green said of sharing the league crown with Free State, "but in 24 hours, we've got another game, a big game with Free State for seedings, especially since they beat us the first time."
Copyright 2018 The Lawrence Journal-World. All rights reserved. This material may not be published, broadcast, rewritten or redistributed. We strive to uphold our values for every story published.