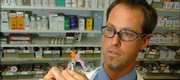 An outbreak of H1N1 Swine Flu was reported in Mexico in April 2009. By the end of May, it had spread across the U.S., with all 50 states reporting cases.
Following swine flu concerns, Kansas University is encouraging its commencement attendees to use hand sanitizers and not to attend if they are feeling ill.
Hand sanitizers will be available at events at the Lied Center, Crafton-Preyer Theatre and Memorial Stadium, and will be placed throughout the Kansas Union. Hand-washing stations will be available at portable toilets along Memorial Drive.
KU officials are continuing to monitor the situation, and will follow CDC recommendations.
At this time, those recommendations do not include ceasing handshaking, though KU encouraged those concerned about hygiene to nod, tip their caps or make other gestures of celebration they feel comfortable with.
Copyright 2018 The Lawrence Journal-World. All rights reserved. This material may not be published, broadcast, rewritten or redistributed. We strive to uphold our values for every story published.