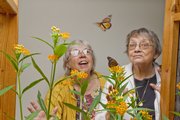 Sixth-grader Matt Pribbenow and his parents, Glenn and Kathy, came to Saturday's Monarch Watch Open House on the Kansas University campus to pick up some milkweed.
They left with some other butterfly-attracting plants, a monarch butterfly caterpillar and a couple of baby praying mantis insects.
The praying "mantii," as Matt called them, were free, and were still quite tiny, and the Lawrence residents would be releasing them at home.
"As long as they stay outside," Glenn was quick to point out.
The other plants they bought helped contribute to KU's Monarch Watch program, in its major fundraiser for the year. The program is an educational outreach program dedicated to monarch studies and preservation.
The event Saturday at Foley Hall on KU's West Campus featured many plants for sale, all of which were geared toward attracting butterflies, hummingbirds and other pollinators, along with exhibits displaying monarchs, silkworms and other insects.
And even though the program is looking for about $40,000 this year to continue its operations, the open house serves several different functions for the program, said Chip Taylor, KU professor of ecology and evolutionary biology and director of the program.
In addition to creating funds for Monarch Watch, the plants will create havens for monarchs migrating south to Mexico for the winter and on their trip back north, Taylor said, as monarch habitats are increasingly disappearing because of development.
"We're really on a crash course here to save this migration," Taylor said.
Margaret Rose, a Lawrence artist, stopped by to pick up some plants — including a few varieties of milkweed, which is a host plant for monarch caterpillars.
"I like to support Monarch Watch's efforts," she said, adding that she finds both the plants and the butterflies they attract quite beautiful.
She's not alone. Matt Pribbenow, too, explained why his family enjoyed following caterpillars as they grow into butterflies.
"Butterflies and caterpillars and some of those types of bugs are the only ones that don't freak me out," he said.
Copyright 2018 The Lawrence Journal-World. All rights reserved. This material may not be published, broadcast, rewritten or redistributed. We strive to uphold our values for every story published.