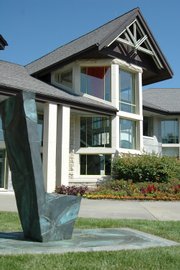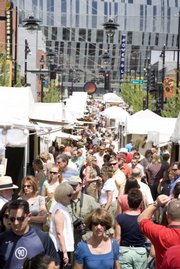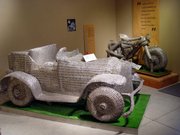 Looking for an art-inspired day trip this summer?
In addition to events going on in Lawrence, here are some suggestions to get on your calendar for checking out the region's art and culture.
For more suggestions, be sure to check out the "A Day Away" special section inside today's Journal-World.
• The District Art Annual Downtown Kansas City Art Fair will be returning to the Power and Light District for the second time this summer. The fair, put on by Howard Alan Event Ltd. based in Florida, features more than 200 local, national and international artists. The artists are selected by a jury.
"Since we aren't a locally based company, our fair brings in art from around the country," said Darrin Alan, marketing director with Howard Alan Event Ltd. "It brings a whole new aspect of art to the city. You're guaranteed to see something you've never seen before."
The free event is June 26-28.
• Washburn University's 17th annual Mulvane Mountain/Plains Art Fair will bring more than 90 vendors from across the country to Topeka. The event will feature art from ceramics to photography and runs June 6-7.
• Though most people think "painting" or "sculpture" when they envision art, there is another side of artistic expression that is often left out: the art of storytelling.
Every April since 1994, storytellers and enraptured listeners gather in Downs — "The Storytelling Capital of Kansas" — for Kansas Storytelling Festival.
"Storytelling is so much more than just telling a joke," said Glennys Doane, a member of the festival's steering committee. "It's a way of passing down legacies and cultures. It's a way of entertaining for sure, but it's also part of our history."
The event is April 24-25.
• Kansas University's Spencer Museum of Art has been focused on environmental themes this spring, and the Marianna Kistler Beach Museum of Art at Kansas State University will have its own environmental show.
The Manhattan museum will offer two exhibits from mid-June to Aug. 16 that document Mother Nature's destructive side. One is a collection of pictures from Greensburg by Larry Scharm. The other, "Destruction Framed," by several Manhattan photographers, depicts the Chapman/Manhattan tornado of 2008.
Both museums are free and open to the public.
• If you find art museums too stifling, Wichita State University's Ulrich Museum of Art will be a breath of fresh air. Much of the museum's collection is on display outside, so you can experience art at any time, free of charge.
"When people think of museums, they think of what's on the walls," said Teresa Veazey, public relations manager for the museum. "We want them to also think about what's outside. Anytime you can walk by something or look at a work of art and think about what it means is important."
• Another interesting art venue in Kansas is the Muchnic Art Gallery in Atchison. The museum, on the second floor of a Queen Anne-style mansion, often features artwork from Benedictine College and K-12 schools in the area as well as state and national artists.
"The museum dispels this notion that coming into the art gallery is an extraordinary thing," said Gloria Davis, executive director of the museum.
Davis said the museum was opened in the 1960s, and exhibits rotate every eight weeks.
• The art offered at most fairs and galleries is from professional or at least trained artists. This is not the case at the Grassroots Art Center in Lucas. The center only carries artwork from self-taught artists.
"It's not normally what you would find in a fine arts gallery," said Rosslyn Schultz, executive director of the center. "Our mission is to be enablers of art, to unleash the creativity within, whatever the medium."
Schultz said a lot of the artwork in the center comes from recycled materials and "piles of junk" that people turn into beautiful pieces of art.
Schultz said the center changes exhibits twice a year, in April or May and again in September. She said this summer the center will feature an exhibit on fabric, which includes reconstructed dolls by Madison resident Janet Fish.
— Kansas University intern Aly Van Dyke can be reached at 832-7126.
Copyright 2018 The Lawrence Journal-World. All rights reserved. This material may not be published, broadcast, rewritten or redistributed. We strive to uphold our values for every story published.