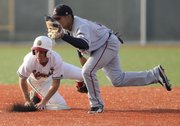 When two starting pitchers combine for 25 strikeouts in the same game, it's hard to imagine very many runs being scored.
But when the team that scores the lone run of the game does so without getting a hit, that makes for a very interesting day.
Such was the case for the Lawrence High baseball team, which defeated Olathe East, 1-0, Friday at Free State High.
Behind a stellar pitching performance from junior Albert Minnis — seven innings, two hits, one walk and 14 strikeouts — and superb base running from senior Aaron Rea, the Lions outlasted the Hawks despite being kept in check at the plate.
"The bottom line is we win," Minnis said. "And we win a lot. It doesn't matter if we got no hits, one hit, or 10 hits, we won and we're 11-4."
While winning a game without recording a hit is a rare feat in and of itself, Friday's outing was made even more unusual because of the circumstances surrounding the zero in the Lions' hit column.
When Rea slapped a ball between short and third with one out in the bottom of the sixth, the Olathe East shortstop went deep into the hole to reach the ball, got his glove on it but could not field it cleanly to make a throw to first base.
The official scorer ruled the play an error because Rea was only halfway to first when the ball was played. That kept the no-hitter from Olathe East's Conner Murray intact.
The Lions, knowing Rea's speed and emphasizing how deep in the hole the ball was hit, saw the play as a single.
"I think it was a hit because Aaron's coming out of the box hot and we teach the kids to run hard all 90 feet," LHS coach Brad Stoll said. "No one in our program plays the game with more passion than Aaron Rea and the last thing he wanted was to be no-hit."
Murray, who had as good a view of the play as anyone in the park, said he was unsure whether it should have been scored a hit or an error.
"I don't know," said Murray, who struck out 11 Lions in six innings. "It was a hard play. They had a great pitcher out there today. He threw well and my hat goes off to him."
In many ways, Murray's assessment of the afternoon best sums up what went down. Although the big question — hit or error — dominated postgame talks, it had no bearing on the outcome of the game and should not have overshadowed Minnis' performance.
In addition to throwing his usual high-velocity fastball and knee-buckling breaking stuff, Minnis worked in a change-up for the first time all year. Although he threw the pitch just five or six times, it, too, was incredibly effective.
"His change-up was almost unfair," Stoll said. "That's a good team we just faced and he absolutely dominated them."
The Lions' lone run of the game came in the bottom of the first when Rea led off with a walk, stole second, was moved to third on a groundout and then came home on a heads-up base-running play on a groundout to third.
"There's no doubt the story today was Albert Minnis and the Murray kid," Stoll said. "But the other story, and really, the reason we won the game, was because Aaron Rea was an all-around great player and made some great decisions running the bases."
The victory was the Lions' sixth in a row and marked the sixth time this season that they've scored two runs or less in a game. Their record in those six games: 3-3.
"Whether you're one-hit or no-hit, as an offense, it's frustrating," Stoll said. "But we know the offense is there and the bottom line is we're 11-4 now and not 10-5. And it feels a lot better to go out to dinner with your family when you're 11-4 instead of 10-5."
Next up, the Lions will face Blue Valley North today. The game is tentatively scheduled for 5 p.m. at Free State High but will be moved to Ice Field — and will begin earlier — if the Lions' home field is playable.
Copyright 2018 The Lawrence Journal-World. All rights reserved. This material may not be published, broadcast, rewritten or redistributed. We strive to uphold our values for every story published.