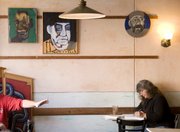 It was 15 years ago, and Jennifer Lawler was feeling overweight and out of shape.
She was walking by a tae kwon do studio in Lawrence and, on a whim, decided to sign up for classes.
"I never thought of myself as athletic or physical," Lawler says. "It opened up this new way of thinking for me. I realized how in tune with my body I could be. It didn't have to be your enemy."
The physical advantages were great — but she didn't expect the emotional and professional advantages that would come along with learning the martial art.
That story is part of a new book, "Chicken Soup for the Soul: My Resolution," a book of 101 essays chronicling how the authors changed their lives by making simple promises to themselves.
For Lawler, a Eudora writer, that promise to improve her health opened new doors for her entire life.
She was going to graduate school at Kansas University at the time, and she started writing about martial arts. Eventually, she had written 20 books about the sports and was editing a martial arts magazine.
"That was a whole opportunity that wouldn't have been available if I hadn't taken that adventure," she says. "It was a life-altering event."
And, she says, the main change was she became more assertive.
"I was a more active person in my life," she says.
Lawler was especially touched by essays in the "My Resolution" book about friendship.
"The whole section about friendship, about setting off on a journey together, that I really like," she says.
This isn't the first time Lawler has written for the prolific "Chicken Soup" series. She's also contributed essays to "Chicken Soup for the Soul: Stress," "Chicken Soup for the Mothers of Preschoolers' Soul" and "Chicken Soup for the Soul: Children with Special Needs."
She especially likes the series because she'll occasionally be contacted by readers who appreciate her stories.
"I get e-mails from people who are touched by the things I've written," Lawler says. "That's one of the reasons I'm a writer, hoping that other people will be touched by what I write and have a dialogue."
Copyright 2018 The Lawrence Journal-World. All rights reserved. This material may not be published, broadcast, rewritten or redistributed. We strive to uphold our values for every story published.