Photo Gallery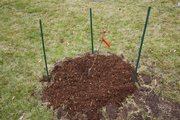 Lawrence Fruit Tree Project at New York Elementary School
Members of the Lawrence Fruit Tree Project spent Saturday morning planting six fruit trees at New York Elementary School.
Byron Wiley looked up from his work, wiped his brow and smiled. Wiley was satisfied, and a bit short of breath: He had just extracted a hefty rock from the soil.
But unearthing that chunk of stone was the only real challenge Wiley and his Lawrence Fruit Tree Project companions faced Saturday while planting fruit trees at New York School, 936 N.Y.
The group, formed in fall 2007, is trying to offer easy access to locally grown fruit by planting orchards and gardens and harvesting existing fruit frees around Lawrence. Saturday morning's planting of six trees — two apple, two pear and two cherry — was the group's largest project so far.
"By doing this here today, people can see how easy it is," Lawrence Fruit Tree project member Eric Farnsworth said. "You just plant a tree and wait and take care of it."
Saturday's six-member team dug holes and planted trees along Ninth Street during a cool-but-pleasant three-hour window Saturday, with only the inconvenient rock slowing the project momentarily. Farnsworth, who moved to Lawrence from California eight years ago because, he said, the Midwestern climate was better suited to growing fruit trees, reached out to the New York School Parent-Teacher Organization to set up Saturday's planting.
"We were asking where we could do something, and at one point somebody said, 'Hey, what about New York School?'" said Farnsworth, who worked alongside his wife, Jean Burgess. "I said, 'That's a great idea.' So I went to a PTO meeting, explained we're a new group in town and we'd like to plant some trees on school grounds. So here we are."
The group started when founder Skyler Adamson gathered acquaintances who he knew shared an interest in fruit trees.
Though the New York School planting was the group's first major undertaking, similar projects are in the works at Faith Church of the Nazarene, 1020 Kasold Drive, and Woodlawn School, 508 Elm St.
When Adamson noticed the amount of uneaten fruit that fell from trees, he saw an opportunity to help the community by providing more perennial fruit plants across the city.
In addition to planting fruit trees, the Lawrence Fruit Tree Project helps publicize fruit tree workshops at its Web site, lawrencefruittreeproject.wordpress.com, and is organizing a database to catalog fruit trees in the city in need of harvesting.
"This is one of our initial projects, so we're just learning how we can operate," Adamson said. "As far as positive response, there's a lot of people who are really enthusiastic about local food systems and having fruit trees in their yards. Everybody likes to have some fresh local food."
Copyright 2018 The Lawrence Journal-World. All rights reserved. This material may not be published, broadcast, rewritten or redistributed. We strive to uphold our values for every story published.