Photo Gallery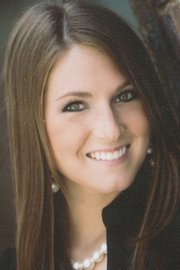 Academic all-stars
As if getting straight A's is not hard enough.
These 10 high school seniors have gone the extra mile and also participated in extracurricular activities and community service.
"When you go through their stuff, my jaw just drops," said Rand Ziegler, a Baker vice president and dean of the College of Arts and Sciences.
The 2009 Academic All-Stars are Jarrod Bechard, McLouth High School; Lauren Crandon and Jared Willits, Free State High School; Julia Davidson and Jeff Miller, Bishop Seabury Academy; JoAnn Doll and Alexandra Hyler, Lawrence High School; JoAnna Male and Marian Mersmann, Eudora High School; and Jacob Rhodes, Oskaloosa High School.
The students and their parents were honored during a luncheon Wednesday at Maceli's, 1031 N.H. The selection criteria included the students' academic achievements and accomplishments in extracurricular activities.
They also wrote an essay on whether employers should check Internet social networking sites on prospective employees as part of the hiring process.
The luncheon's guest speaker said the topic was fitting, with the speed the students will have to deal with information as they move forward in their lives.
"Be those individuals who should really think before they speak," Baker University President Pat Long said.
Long encouraged the students to carefully reflect on their choices because they will have to make difficult decisions in their lives.
The judges were Ziegler; Austin Turney, a retired Lawrence school board member; and Robert Harrington, a Kansas University professor of psychology and research in education.
Ziegler said the students are involved in so many things in and outside of the classroom.
"The diversity of the things they do on top of the academics just amazes me," he said.
The students received a gift during the luncheon Wednesday. The Journal-World has honored one class of outstanding students annually since 1997.
"I guarantee you it's going to be a fun ride watching where you go," Dan Simons, president of The World Company's electronics division, told the students.
Copyright 2018 The Lawrence Journal-World. All rights reserved. This material may not be published, broadcast, rewritten or redistributed. We strive to uphold our values for every story published.