Photo Gallery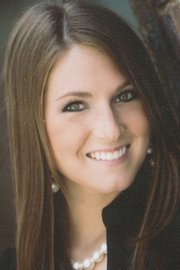 Academic all-stars
Jarrod Bechard
Jarrod Bechard hopes to be a key examiner of crime scenes one day.
It might not be as glamorous as his favorite television show, "CSI," but the McLouth High School senior still sees himself tracking down important details to help with a criminal investigation as a forensic scientist.
"I just like science and math. They are my favorite courses," he said.
Bechard plans to attend Kansas State University in the fall to study biochemistry.
He's had a busy high school career that includes vaulting to the top of his class, participating in four sports his senior year and playing in McLouth's marching and pep bands.
"My parents really kept me on track," he said.
He's also benefited from the advice of his mother, a teacher.
"She will always listen and provide the best advice for the problem I have," he said.
Bechard has thrived at the smaller high school, and he said he was proud to represent his school as an Academic All-Star.
"It's pretty cool because I came from a small school," Bechard said.
Honors, activities: Kansas Honor Scholar; Dean's Award from the Kansas State College of Engineering; Putnam Scholarship from K-State; Kansas Music Educators Association; cross country (9-12); basketball (11-12); track (10-12); football (12); band and jazz band (9-12); National Honor Society (10-12); Family, Career and Community Leaders of America (10-12); class vice president (10-12); Math Club (11-12); Scholar's Bowl (11); freshman mentor (11)
Lauren Crandon
Lauren Crandon's interests get piqued easily.
Her list of high school achievements — including a 4.0 grade-point average, studying foreign languages, involvement in music and community work — are prime examples.
"For me it was easy to be well-rounded because I've been strong with everything, and I've been interested in everything," the Free State High School senior said. "It's kind of made it difficult in finding a major. I haven't gravitated toward a specific area. I've tried everything and just enjoyed everything."
She will carry her plethora of interests to college. She's still deciding on her final list of schools, including Kansas University, but Crandon has plans to study math or science, possibly in the engineering field.
She also wants to study abroad and continue her chances of being able to meet new people, something she has taken advantage of growing up in Lawrence.
"I've always loved school, which probably helped motivate me, too," she said. "I think there's a diverse community in Lawrence, which is really nice. I've had friends from all different backgrounds, which has helped shape me a lot."
Honors, activities: Kansas Honor Scholar (12); National Honor Society (11-12); National Merit Commended Scholar (11); orchestra section leader with district and state honors (9-12); choir (11-12); Spanish Club (10-12); German Club (12); LINK Crew (11-12)
Julia Davidson
What Julia Davidson has enjoyed most about her six years at Bishop Seabury Academy was the freedom to carve her own path.
"It helped show me how I learn. I've had to take responsibility for my education, a good portion of it," Davidson said.
She's excelled in the classroom and also managed a busy slate of activities, including ballet, theater and forensics.
Her time at Seabury has allowed her to thrive in so many areas.
"It's taken a lot of time management and patience from other people, mostly. It's everyone else putting up with my schedule," she said.
As she still narrows her college choices, Davidson is considering performing arts, humanities or social sciences.
Davidson has had support both at school and at home to help her succeed among her many interests and activities.
"It's the relationships. I've formed friendships and relationships with my parents, my teachers and my friends," she said.
Honors, activities: Essay winner for Journal-World Double Take column (11); Lawrence Arts Center's Carmen Ballere ballet scholarship (2003-2004); Summa Cum Laude awards for National Latin Exam (11, 12); Smith College Book Award (12); first place duet in state forensics (10); Theater (7-12); won numerous best actress and best director awards; Choir (7-12); forensics co-captain (11, 12); Student Senate (9-12)
JoAnn Doll
JoAnn Doll's musical accomplishments are lengthy.
The decorated flutist and Lawrence High School senior confesses that even sometimes her love for music has kept her from doing some of her homework.
"Basically, it's who I am," Doll said. "It's not like other subjects."
She might be hard on herself, but she's found a way to also have success in the classroom.
Her stellar grades and test scores have her near the top of her high school class.
Doll is still considering where she will attend college, but she plans to double major in flute performance and either linguistics or classical studies.
For a career choice, she wants to do something on a large stage, like become an international musician. She has the musical background, and she also enjoyed studying foreign languages, like Chinese and Greek.
Doll said that in her music commitments and her time in the classroom, her teachers and parents have helped her achieve such high standards.
"It's kind of a fine line between demanding and encouraging excellence," she said. "They do both."
Honors, activities: National Merit Scholar Finalist (12); AP Scholar with Distinction (12): Harvard Book Award (11); Kansas Honor Scholar (12); National Society of High School Scholars (11-12); National Latin Exam, silver and gold medals (9-11); first in Kansas for advanced Latin reading comprehension and derivatives for National Junior Classic League; second in Kansas for senior high woodwinds, Music Teachers National Association (12); Kansas Music Educators Association State Honor Band member (10-12); first chair flute (12); Lawrence Chamber Orchestra (12); Paul Wunsch Young Artist Competition winner (12); Kansas City Flute Association 2008 Rising Star Competition winner (11); Topeka Symphony Orchestra 2008 youth talent woodwind/percussion division winner (11); Lawrence Chamber Orchestra 2008 youth artist woodwind/percussion division winner (11); Lawrence High concerto competition winner (11-12)
Alexandra Hyler
For Alex Hyler, her eight-year gymnastics career has included adversity in the form of congenital scoliosis.
"Having to deal with this condition, I developed an incredible determination to accomplish anything I wanted to — regardless of the circumstances," Hyler said.
Instead of approaching the setback as a defeat, she has instead looked for solutions. And, she says, she has also transferred that attitude into other aspects of her life.
It has motivated her to achieve high marks in the classroom, to help her friends and to pursue a long list of activities.
She's active in debate and forensics, which has helped her learn communication and research skills. Hyler has also worked on community service projects and helped on several church mission trips.
As she graduates, Hyler plans to attend Kansas University to study chemical engineering. Her ultimate goal is to work in the biomedical field.
"I think it would be really cool to be on the forefront of medical research and technology," she said. "It would be really nice to create something to help what I've dealt with — in terms of my having scoliosis."
Hyler has also enjoyed growing up in Lawrence, and although she has traveled to five different countries, she is content staying here for college.
"I've always said that our university is one to be proud of, and I think growing up in Lawrence, there's a temptation to leave town," she said. "But it's so hard to walk away from a university that's in our backyard. I think just growing up in Lawrence has made me appreciate that fact."
Honors, activities: LHS a cappella select choir (2008-present); LHS Key Club president (2008-present); debate (2007-2009); LHS musical stage manager (2009); varsity diving (2006-2007); LHS Young Republicans, vice president (2007-present); LHS LINK Crew mentor (2007-present); Kansas Honor Scholar, National Honor Society member (2008-present); exchange student to Eutin, Germany (2008); National German II test, sixth place in Kansas; National Forensics League's degree of distinction; Kansas high school debate, 16th place as speaker (2007); Kansas Junior Academy of Science, state superior rating; Duke Talent Identification Program (2001-present); Lawrence schools Gifted and Talented Program (1999-present)
JoAnna Male
JoAnna Male's career at Eudora High School has included success in several areas from sports to leadership roles in several clubs.
But, Male admits, it was a special honor to learn that she had been selected as a 2009 Academic All-Star.
"It's great to get recognition for academics and everything because that doesn't happen too much," she said.
Male is still considering and weighing her college choices as she plans to study chemical engineering with possible dual majors or minors in business management, Spanish or political science.
She also wants to attend graduate school some day at Massachusetts Institute of Technology with aspirations also to study abroad.
Male will be busy for the next several years, but she said her high school career has helped prepare her for the challenge.
Although her interest is in math and science, she has enjoyed most of her teachers, including social studies teacher Bill DeWitt's class.
"They're all supportive. They know their stuff. It's just a good atmosphere," she said.
Her parents and her brother, who is studying physics, also helped drive her ambition to the chemical engineering field.
"They're a great inspiration to me," Male said.
Honors, activities: Kansas University chemical engineering research (12); Aerospace Alliance (9-10); extended learning program (9-12); Outstanding Spanish Student (9-10); Outstanding Math Student (11); Commended National Merit Scholar; Kansas Scholar; Governor's Scholar; Student Council (11-12); senior advisory (12); International Club (9-12); Environmental Club (9-10); Future Business Leaders of America (10-11); SkillsUSA (9-10, 12) track and field (10-12); soccer (9-11); softball (9); cross country (12); Scholars Bowl (9-12)
Marian Mersmann
Academic success runs in Marian Mersmann's family.
Her brother, Charles, a 2007 Eudora High School graduate, also was selected as a Journal-World Academic All-Star.
That's what excited Marian Mersmann when she learned of her recent selection for the 2009 class.
"My whole family has always done really well in school," she said. "I guess you could say there's pressure — but kind of a positive pressure."
She's handled it well.
Mersmann has balanced academics and involvement in several clubs in Eudora, plus community service work.
She's also benefited from attending a smaller high school.
"There's more attention from the teachers, and you're closer with the staff," Mersmann said.
Mersmann plans to attend Kansas State University next year to major in psychology and secondary education and pursue a minor in leadership studies.
After having such a positive school experience, she hopes to become an English teacher or a school psychologist. Mersmann said she has benefited most from two of her favorite English teachers, Heather Lawrence and Matt Bova.
"They made the classes really good for me. They made me want to pass that on to other kids because it encouraged me to do well in other areas of school," she said.
Honors, activities: Putnam Scholarship, Kansas State University (12); League of Art Contest, winner best of show and artistic excellence and artistic merit (11); Art Student of the Year (9-11); Outstanding Spanish III Student of the Year (11); Kansas ACT Scholar (12); National Honor Society, president (12); International and environmental clubs (9-11); basketball (9-11); softball (9); senior advisory committee (12); Student council (9-12); Fellowship of Christian Athletes (9-10)
Jeff Miller
Jeff Miller has plans for the next phase of his life.
The Bishop Seabury Academy senior plans to pursue anthropology or political science in college once he graduates.
He hopes to one day work out of the country, probably in Latin America, where he can put his interest in public policy to work. His family also has ties to the region, he said.
"I've just been very lucky to have parents who really emphasize academics in my life, in all aspects of my family," Miller said.
He's still undecided on which school he will attend in the fall, but Miller said he's prepared to meet his ambitious goals.
Miller has succeeded at the independent school, which also requires students to participate in two after-school activities. The obligations have forced him to balance academics with time in school plays and forensics.
"We get a lot of individual attention and a personalized study for every student," Miller said.
But he's also excited to take the next step.
"The teachers are excellent. I've met a lot of very good people there and learned a lot, but I think I'm ready to move on to college," he said.
Honors, activities: National Merit finalist (12); Kansas Honor Scholar; Grinnell College Book Award; Seabury Scholar; Senior Prefect; Best Actor "The Cherry Orchard"; Bicycling club; theater; golf; student government; weight lifting
Jacob Rhodes
Jacob Rhodes has benefited from attending Oskaloosa High School.
"We have a good group of teachers that can teach well and get the message across," he said.
The personal attention and the opportunity to be involved in many activities, such as scholars bowl, band and other clubs, also have allowed the tallest 2009 Academic All-Star — he's 6 feet, 5 inches tall — to have a positive high school experience.
But he's also learned the value of self-motivation, which has helped Rhodes earn a 4.0 grade-point average.
"I think I have a good effort to do well, and I've always had support from my parents," Rhodes said.
He also hopes to capitalize on his interest in working with computers as he heads to college.
Rhodes is still waiting to hear from several schools before he makes a decision.
He plans to study business and later attend graduate school to break into a field like computer science.
With his lofty career goals in mind, Rhodes said he will benefit from the time-management skills he learned in high school.
He had to balance academics, club involvement and playing the trombone at Oskaloosa.
"I've improved pretty vastly over the past couple years," Rhodes said.
Honors, activities: Letter of commendation from National Merit Scholarship Program; Kansas Honor Scholar (12); 4A state festival band, second chair trombone (11-12); National Honor Society, president (12); Class president (9-12); Future Business Leaders of America, vice president (12); Concert band, first chair trombone; Scholars Bowl (9-12); Golf (10-12); Cross Country (9-12)
Jared Willits
Growing up in Lawrence, Jared Willits has seen several fellow older students earn a place on the Academic All-Star team.
Now he's flattered to join them.
"Some of those people I really look up to, and it's kind of cool to be recognized like they were recognized," Willits said.
But the Free State High School senior who had his hand in so many things — earning a 4.0 grade-point average, playing football and in the marching band, to name a few — knows he has much more to accomplish.
Willits wants to study aerospace engineering in college and eventually work in the industry. He decided on the major last summer, because he loves physics and math.
"I'm pretty confident about that. A lot of the stuff I've been seeing is about the significantly different ways you can go when you get into aerospace engineering," Willits said.
He is comfortable he will find a fit and one day design equipment for space travel. Willits is still pondering his college decisions. He's looking at Michigan, Purdue, Kansas University and the Massachusetts Institute of Technology.
He knows he has a challenge in front of him because of the field's difficulty and the prestige of the schools he's eyeing.
But his self-motivation, and his willingness to take on several tasks throughout high school, have taught him a lot.
"I've had opportunities to take harder classes (at Free State). That first year it was a little rough, but after three years I've gotten used to it," Willits said.
Honors, activities: National Merit Commended Scholar; AP Scholar with honor; Kansas Honor Scholar; Principal's Mark of Excellence (10-11); President's award for educational excellence (9); band (10-12); football (11-12); marching band squad leader (11) section leader (12); Outstanding junior and sophomore mellophone (10-11); John Philip Sousa Kansas Honor Band (9); National Honor Society (11-12); LINK Crew (12)
Copyright 2018 The Lawrence Journal-World. All rights reserved. This material may not be published, broadcast, rewritten or redistributed. We strive to uphold our values for every story published.