Photo Gallery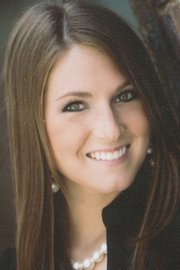 Academic all-stars
They came together in spring 1999 as some of the brightest students in northeast Kansas.
Ten years later, the Journal-World's 1999 Academic All-Star team members have experienced success across the country.
Some, but not all, have ended up in the same field they expected to pursue out of high school. Still, their list of accomplishments doesn't disappoint.
The Journal-World continues its tradition of catching up with the academic all-star team 10 years later.
Jacob Keehn
Perry-Lecompton High School
Jacob Keehn tried to get away from his passion of studying art when he left for college.
The 1999 Perry-Lecompton High School graduate started out as a business major at Kansas State University.
Later he switched that to a minor and picked up art again. In 2004, Keehn earned a bachelor's degree in fine arts with an emphasis in painting.
Today, he's the advertising services director for The Daily Union in Junction City. His department builds advertisements for the sales representatives, so he still relies on his art and design background.
"I didn't foresee myself doing this necessarily, but I used to actually deliver newspapers in high school," Keehn said. "It's kind of like things go full circle, in a way."
He now puts both his business and art backgrounds to use because he has to be creative and still manage a staff.
Keehn has thought about returning to school to earn a master's degree, but he's content with the company he joined out of college. He admits he felt a pressure to succeed, especially after his high school accolades.
"Where I'm at now in my life, things have gone really well," he said. "I was really fortunate that things went where they did."
Aaron Anderson
Baldwin High School
Aaron Anderson didn't go far out of high school.
The 1999 Baldwin High School graduate actually stayed in his hometown.
He played four years of football at Baker University and worked his way through an engineering program at both Baker and Kansas University.
"Baker was great. I loved going to school there," said Anderson, who lives in De Soto. "Football was a lot of fun. It's an opportunity that not a lot of people get."
He was also busy with the books in college, earning a physics degree from Baker in 2003 and a KU mechanical engineering degree 2004. Anderson also made it into the profession he chose out of high school, although it's not quite the field he expected.
"I always knew I was going to go into engineering, but for a while I had this dream in my head that I was going to do chemical engineering," Anderson said. "I switched pretty quickly to mechanical engineering."
He worked two years in Denver for defense contractor Lockheed Martin before returning to the area. In 2007, Anderson started working for Burns and McDonnell in Kansas City, Mo.
"It's an interesting field. There's a lot of hands-on things. It's tough to get bored because there are so may things to do."
He's also working on his master's degree in engineering management at KU, one class at a time. He recently married his wife, Laura, and they are expecting their first child. The due date was Saturday.
Anderson stayed near home for several years, and he said he still relies on things he learned growing up in a small town.
"You get a lot of good values that are probably easier to miss out on at bigger schools," he said. "I wanted to work at home. I'm not the most blessed person physically or mentally. I wanted to really work hard for the things I do, and it's paid off."
Kelly Gratny
Tonganoxie High School
For Kelly Gratny Carlson, caring for animals was a huge part of her life growing up.
The Tonganoxie High School graduate's father trains horses and her mother is a veterinarian.
It's no surprise she is now a resident instructor at the large animal hospital at Texas A&M;'s veterinary school.
"I planned to go to veterinary school, and specialization in equine medicine is a natural fit for me," Carlson said.
She graduated from Kansas State University in 2002 with a bachelor's degree in microbiology and earned a Doctor of Veterinary Medicine degree in 2007.
Carlson also completed an internship in equine medicine and surgery at Rood & Riddle Equine Hospital in Lexington, Ky.
Her residency at Texas A&M; runs through 2010.
After that she plans to return to private practice with her husband, Eric, a veterinarian who specializes in equine surgery. They will either return to Lexington or Kansas City, Kan.
Joseph Thomas
Ottawa High School
Joseph Thomas' dream hasn't changed since he graduated in 1999 from Ottawa High School.
"Everything's been exactly the same. I've wanted to be a structural engineer and work on sports projects since I was in middle school," said Thomas, a senior engineer with Thornton Tomasetti Inc. in Kansas City, Mo.
He helped design the Bank of Oklahoma Center in Tulsa, a 19,000-seat arena that resembles the Sprint Center in Kansas City, Mo.
Thomas, who lives in Kansas City, Kan., with his wife, Amber, is a 2005 Kansas State University graduate who earned bachelor's and master's degrees in engineering with an emphasis in structures and a minor in leadership studies.
Thomas said he has been able to broaden his horizons once he left Ottawa. At K-State, he studied for a semester in Australia, and in 2003, he participated in a work-exchange program where he worked for an engineering company in Denmark.
He has not strayed from his original interest of structural engineering.
"I've always had a pretty big interest in math and science. I've really always enjoyed sports architecture," Thomas said.
He is also glad to be living in Kansas again after traveling and living in Tulsa.
"You can always go visit the places, but you can't visit the people. I'd rather live where the people are great and the culture is great," Thomas said.
Matt Anderson
Free State High School
As a Free State High School student, Matt Anderson was known for his performances in choir.
Now based in Boston, he performs at festivals and other venues across the country singing opera.
"I feel pretty lucky to actually be able to do it and make a career out of it," Anderson said.
But even with his musical emphasis and success in high school, Anderson didn't see himself going that direction. He left Lawrence for Harvard and earned a bachelor's degree in classics in 2003.
"I guess I was sort of thinking about music as more of a hobby, but I think when I went to college, I wasn't exactly sure what I wanted to do," he said.
By the time he was in his junior year at Harvard, Anderson started to get more serious about singing.
"I found out I really loved it and was good enough to actually have a chance to get to do it," he said.
After earning his undergraduate degree, Anderson earned a master's degree two years later in vocal performance from the New England Conservatory in Boston. Then he started his professional career of performing in the Northeast, including with the Boston Pops Orchestra, and across the country at festivals.
Anderson also teaches voice at the Phillips Exeter Academy in New Hampshire. He says he draws his enthusiasm for music from his days growing up in Lawrence.
"I'm always kind of amazed at the number of people from Lawrence who have gone on to do really great things in theater or movies or music," he said. "I feel pretty lucky to have grown up in a town where the music programs in the schools were so strong and there was so much enthusiasm for the arts in general."
Amy Pierce Hill
McLouth High School
Amy Pierce Hill has ended up on the path she originally started on, even if she took a detour along the way.
The 1999 McLouth High School graduate grew up wanting to be a teacher, but when she went to Pittsburg State University she started out as a recreational therapy major.
Hill switched to elementary education at the end of her sophomore year.
"I grew up wanting to be a teacher. Quite a few people in my family have been teachers," she said. "Going back to it, I just realized that it would be a really good fit."
She earned her degree in 2003 and got a job at Edgerton Elementary School, where she teaches fourth grade. Hill also earned a Horizon Award, given to young teachers, early in her career.
"It's really rewarding to watch kids grow and to be part of developing their character and helping them learn," Hill said.
She is married to Brian Hill, and they live in Spring Hill.
Amy Hill also feels lucky that she has found a school and school district where she enjoys working.
"There's always stresses to jobs, but overall I don't really see myself doing anything else," she said.
Christine Yantis Hargrove
De Soto High School
Christine M. Hargrove had her sights set on becoming a professor out of high school.
That takes a lot of schooling, but she definitely has the academic credentials.
She earned a bachelor's degree in 2003 from Vanderbilt University with a major in religious studies and minors in women's studies and Spanish. Hargrove also earned a master's in divinity from Harvard in 2006.
But plans can change.
"I just sort of got sick of academia," the 1999 De Soto High School graduate said. "I had to figure something out."
All through her academic career, Hargrove had also worked several marketing jobs, and she picked up the skill of Web page design, including working for a company in Cambridge, Mass.
She moved back to Overland Park with her husband a year ago, and she had a baby in August. At the same time, Hargrove has started her own business, CYH Associates, which specializes in graphic design and Web site maintenance.
She's taking advantage of a skill she learned in her first job out of graduate school.
"If you have a knack for it, it's not that hard," she said.
Having a child has also changed her career ambitions, but her business has given her flexibility.
"Right now we're in the mode of having a family. We want more kids," she said. "The life of somebody with small children, especially for a mom, is very difficult."
Now she also gets to have a career, own a business and be around her daughter. Her husband, Andy B. Hargrove, is a manufacturer's electronics representative in the area. Her master's degree also qualifies her for ordination, so that could be in her future as well.
"I really think that I have the best of both worlds," she said. "I've learned to expect the unexpected and be open to new opportunities."
Lindsey Warren Armstrong
Wellsville High School
Ten years after graduating from Wellsville High School, Lindsey Warren Armstrong is back home living about a mile from her parents.
She and her husband moved back to the area from Dodge City more than four months ago.
"It's been wonderful," she said. "We always knew we wanted to come back to this area. We had no clue we would be quite this close to home."
In the decade since becoming a Journal-World Academic All-Star in 1999, Armstrong experienced adversity in the form of health problems while attending Kansas State University.
"It took me longer than I wanted it to, but it was very important so I found a way to make it work," she said.
She eventually moved to Dodge City with her husband and finished her degree in information networking and technology in 2007 at Fort Hays State University.
She also began working for United Telephone Association, based in Dodge City, doing technical support. She originally studied computer science at K-State, and she's still working in the field.
"I love my career. I love my job," Armstrong said.
She returned recently so her husband could work as a mechanical engineer in Olathe, and Armstrong has been able to keep her support job for the Dodge City company, even though she is across the state.
Her plans did not materialize to finish at K-State because of her health issues, but she is happy with how things have turned out since then.
"I believe everything (that) occurred in those years definitely made me a stronger person and helped form me who I am now," she said.
Joseph Charles
Free State High School
Joseph Charles, a 1999 Free State High School graduate, was focused when he left Lawrence for Rutgers University.
He's still focused on landscape architecture.
Charles graduated from Rutgers in 2003 with a bachelor's degree in the field, which is a specialty at the university.
Now he is designing landscape projects at his own company, Studio Scape in Santa Fe, N.M.
"It just fit. I was lucky in that regard," he said.
Charles moved to New Mexico after graduation to work for a design firm, Design Workshop in Santa Fe.
The large landscape architectural and design firm had a national presence, but about one year ago he left to start his own business.
"It's really the whole gamut of project types from residential urban design and planning as far as new communities, parks and open space," he said.
Charles looks back on high school and growing up in Lawrence as an environment that helped nurture his interest in design.
"I think there were more opportunities in that school district because they really do have such a strong emphasis for art, design and music," he said.
Charles is enthusiastic about his future.
"I'm quite happy with the direction that I've taken, and even now being able to have my own company and practice in that regard," Charles said.
Helen White
Lawrence High School
When Helen White graduated from Lawrence High School in 1999, she was ready to see the world.
"Lawrence High is a wonderful school. I had a wonderful experience there," White said. "I wanted to take that with me and go out and explore."
She had a long list of high school accomplishments and a lengthy set of challenges in front of her. White attended Wellesley College in Massachusetts and graduated in 2003 with a bachelor's degree in Chinese studies.
Her mother, Lucy White, is from Taiwan, and Helen White spent time working as a translator in Taipei at the National Palace Museum.
In 2005, she earned a master's in East Asian studies from Yale.
"I just really wanted to leave high school, and I was really excited about college, and I wanted to see what was outside of Kansas," White said.
And she did.
But she's also returned to Lawrence.
White is now a third-year law student at Kansas University.
This summer after graduation, she will move to Colorado to clerk for a district judge.
Her time in Taiwan piqued her interest in law. Because it's a small country, international law comes in to play quite often.
White decided then to attend law school, and she hopes to practice contract law.
"We have to have some kind of rules and guidelines to operate," she said.
In 10 years, White has both achieved her goal of moving away and seeing other parts of the world. She's also gained a new appreciation for her hometown.
"I'm really happy with my high school experience," she said. "I think Lawrence High School was fabulous."
Copyright 2018 The Lawrence Journal-World. All rights reserved. This material may not be published, broadcast, rewritten or redistributed. We strive to uphold our values for every story published.