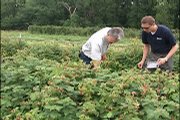 Vinland — Editor's note: Reporter Mark Boyle takes us behind the scenes of news stories in the area. This week, he skipped out on breakfast a little early so he could enjoy some of the fresh fruit at the Lawson Brothers Farm near Vinland. The farm is small and quaint. It's also the perfect size for one of the best-known "U-pick" fruit operations in eastern Kansas, featuring strawberries, raspberries and blackberries.
Buy local, eat healthy and get a little exercise along the way.
The Lawson Brothers Farm, just east of Vinland, offers area residents a fresher alternative to store-bought fruit, but there is one catch: You do all of the work.
"We are strictly a U-pick operation," said Gary Lawson, co-owner of the farm. "People are welcome to come out with their kids … for a family activity. We're really a modest scale."
The farm has ripe strawberries beginning at Memorial Day, fresh raspberries shortly thereafter and blackberries by the row after July 4.
The picking order has been memorized by many local fruit lovers, who enjoy an activity that attracts area residents from myriad backgrounds.
"There is the real serious picker that wants a volume of fruit that they can preserve," said Lawson, who admits at times that the farm is almost too big for one family to handle. "The other folks are the family pickers who want to have a good experience … and introduce their kids to where the fruit really comes from."
Copyright 2018 The Lawrence Journal-World. All rights reserved. This material may not be published, broadcast, rewritten or redistributed. We strive to uphold our values for every story published.