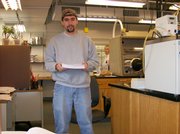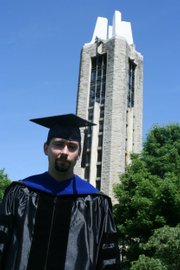 Imagine you are thousands of miles away from your son. On a different continent, in fact. In a remote, sun-baked place with little in the way of communication to the world outside.
One day, your phone rings, because you do have a phone. There's been an accident. Your son, your Matthew, is in the hospital. A motorcycle accident thousands of miles from your home in Tanzania threatens to take your son's foot. Maybe even part of his leg. No one knows.
You call, trying to get a plane flight out. Trying to get to Kansas City, where Matthew is in the hospital.
This was the life of Mark Sherrill in the Indian summer of 2006.
Sherrill and his wife, Regina, had been missionaries in Tanzania since 1995. They never imagined they'd come back to the United States for good, let alone living in Lawrence, despite being from Camdenton, Mo.
But then life happened.
A graduate student in organic chemistry at Kansas University, the Sherrills' only son, Matthew, was riding his motorcycle to class Aug. 31, 2006, when his life changed forever.
"I happened to be riding my motorcycle that morning since it was a nice day, and as I was coming through the intersection at 19th and Kentucky, a car failed to yield on a left turn on a green arrow and T-boned me as I went through the intersection," Matthew Sherrill says. "I was life-flighted to KU Med in Kansas City and was treated for severe injuries to my left foot."
Half his foot was gone. His parents, back in the land where he grew up, Tanzania, got the kind of phone call no parent wants to hear.
The accident
Matthew Sherrill has had almost three years to think about what happened that warm morning. He describes it succinctly, directly.
"First of all, the whole situation was very unreal," he says. "A major accident happening to you while you are going about your daily routine is usually the furthest thing from your mind."
What came into his mind as soon as he finished his first round of surgeries was the hope that what happened to him did not affect his parents. He didn't want to put their work — doing missions in health care, English and more in Africa — on hold.
"The next thing I remember saying," Matthew Sherrill says after asking his grandparents if his parents knew, "is that I don't want them to come home."
Then, he continues, as an aside: "I am very glad that they decided to, but at the time, I didn't realize the extent of the damage to my foot."
Extent of the damage or not, his parents were coming to see him, because that's what parents do. Though, because of the nature of flights in and out of Africa, it wouldn't be immediate. Mark Sherrill was able to find a flight that could leave days after the accident — something the deeply religious man believes was an act of the divine.
"God opened a door for me to get a ticket, and then within less than a week I was in the states," Mark Sherrill says. "I was actually in the states before Matthew was out of the hospital. It was pretty amazing."
Mother Regina, however, had to wait weeks for a ticket. When she was able to see Matthew, his father, who had taught personal health classes in Tanzania, was already playing nurse to his son.
Recovery
The days after the accident were long and painful in more than just the physical way. Getting around was tough, and getting back up to speed in his schoolwork was nearly as grueling. Then came the bills and the paperwork associated with a life-changing crash.
"For the first months after the accident, even getting around was extremely difficult," Matthew Sherrill says. "Dad would drive me to my classes, which I was still attending so as to not fall too far behind in them. Mom was very instrumental in dealing with the hospitals, figuring out which bills went where, and for what procedure."
The effect was instant: With his parents helping him, Matthew's personality took over and soon, he was ahead of where he should have been and closing in on the doctorate in organic chemistry he received in May 2009.
"He's a very competitive, driven young man. When the accident happened and being out of the loop for a month and a half, (he) felt like he had fallen so far behind in the project that he needed really to bust his tail to keep up and catch up," Mark Sherrill says. "So the result of that was that that combined with all of the emotional stuff, dealing with the stress, he just threw himself into his work to not have to deal with the emotions."
Not only did Matthew Sherrill's physical and educational lives change with the accident, his spiritual life changed as well. The specter of bitter anger covered the spot where love for the Lord once had been.
"It took me over two years to get over the anger and hurt that I felt over losing my foot. It was a long time before I was even able to pray," he says. "I felt cheated, like there were things in life that I was never going to experience because I was missing part of my foot, and I shifted all of the blame on God and refused to have anything to do with him."
Beset with grief, frustration, fear, depression and all the feelings that come with such an accident, he realized he was going about it all wrong. He needed the Lord in his life. A verse from the book of 1 Peter confirmed it in his mind: "Cast all your cares on him, for he cares for you."
"I started to get my life back," he says. "I started to be able to enjoy my life and look forward to tomorrows without dreading them."
Tomorrow and today
Currently, tomorrows for Matthew Sherrill are in Germany, where he is training for his postdoctoral appointment to the U.S. Army Research Lab at the Aberdeen Proving Ground in Maryland.
The tomorrows for his parents are, for now, in Lawrence. Mark Sherrill's experience with Matthew, as well as his health care experience in Africa, has pushed him into a goal of nursing school, which he hopes to attend after completing prerequisites at Johnson County Community College.
Regina Sherrill works at KU, and Mark is a handyman when he's not in school. They have found a church. And though it is a life much different than the one they lived as missionaries, the Sherrills believes God wants them in Lawrence and they will stay until he wants them elsewhere.
"It depends on what God has planned for us," Mark Sherrill says. "Obviously, I'm going to be here for a while because I'm doing nursing school, but I'm not opposed to going back to Africa. I'm not opposed to going to some other location in the world, but I'm not just going to pack up and go. It would have to be at what I perceive the leading of the Lord like I went the first time to Africa."
Matthew Sherrill also believes he is where God wants him to be, even if it is with half a left foot.
"While the accident has definitely affected my life, I would say that in most cases it has done so for the better," he says. "It brought me closer to my family, to my friends and definitely to God. I have to lean on him for everything and trust that the plans that he has for me, while I don't know exactly what they are, I will somehow be able to accomplish his purpose for my life better with half a foot than I would have with both feet."
Copyright 2018 The Lawrence Journal-World. All rights reserved. This material may not be published, broadcast, rewritten or redistributed. We strive to uphold our values for every story published.