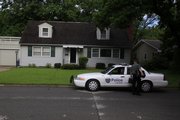 Police arrested a 15-year-old Lawrence boy and his 60-year-old father early Tuesday on suspicion of attempted first-degree murder in connection with an attack on the boy's mother.
Formal charges are expected to be filed today in the incident, which comes during a complicated child custody dispute.
Officers were called about 1:10 a.m. Tuesday to the 1100 block of Hilltop Drive, where they found the boy chasing his mother down the street with a baseball bat, Lawrence police Capt. Tarik Khatib said in a news release.
Police said the 45-year-old woman had called police, saying her son had broken into her home and attacked her with a bat. The woman was taken to the hospital for treatment of injuries, then released.
The boy was detained. Also detained were his father — who also is the victim's ex-husband — and the ex-couple's 12-year-old daughter, police said.
The ex-husband and son were arrested on suspicion of attempted first-degree murder, aggravated burglary, aggravated kidnapping, conspiracy to commit a felony and aggravated intimidation of a victim. The daughter was detained on suspicion of conspiracy to commit a felony.
The suspects and victim are in a child custody battle, which a Topeka psychologist describes as "the most complicated custody/parenting evaluation that he has ever had," according to court records.
According to court documents prepared by the father's attorney, the children said they wanted to live primarily with their father. According to court documents prepared by the mother's attorney, the mother wanted the boy to live primarily with her during the school year and primarily with the father during the summer.
It is unclear with whom the children were living at the time of the alleged attack on their mother.
An Aug. 10 court hearing regarding the custody dispute is scheduled before District Judge Jean Shepherd.
Copyright 2018 The Lawrence Journal-World. All rights reserved. This material may not be published, broadcast, rewritten or redistributed. We strive to uphold our values for every story published.