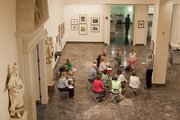 It's been quite some time since some Kansas University alumni have been on campus, and some say changes at the university are not all for the better.
"The hill has gotten much steeper. I have a hard time coming up it," joked Vernon Mattson, a retired University of Nevada-Las Vegas professor.
Mattson — and about 135 other participants in KU's first Mini College — is on campus this week, taking classes for the first time since 1971, the year he received his doctorate.
The four-day Mini College concludes today, and more than 55 professors have volunteered to lecture and handle other college activities for the participants who choose from four areas of study: biology, art, book or film.
"They choose one of those, and they follow it all week long, so you can think of it as getting your gen-ed requirement in the morning and then your major in the afternoon," said Jessica Beeson, project coordinator.
Another KU alumna, Elaine Frisbie, said she is happy to be back on the campus where she earned an undergraduate degree in 1988 and a graduate degree in 1992.
"It's been a wonderful experience … reconnecting with professors and doing a specific track in my area of study when I was an undergrad here in art history," she said.
The Mini College is an effort to connect the university with alumni and the community.
"We have so much research going on up here, so many great projects happening all the time that we feel like we really ought to provide more opportunities to share them with the general population," Beeson said.
It's a wonderful way to spend a vacation, said Frisbie, who is deputy director of the Kansas Division of the Budget.
"No finals, no tests, no papers, no grades. It's great."
Copyright 2018 The Lawrence Journal-World. All rights reserved. This material may not be published, broadcast, rewritten or redistributed. We strive to uphold our values for every story published.