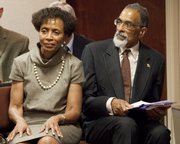 Incoming Kansas University Chancellor Bernadette Gray-Little will be focused on getting to know the campus and the state upon her arrival at KU.
The exact date she'll be in Lawrence hasn't been finalized yet. But it likely will be shortly before Aug. 15, her first day on the job at KU, said Lynn Bretz, a university spokeswoman.
That first day is a Saturday — a busy Saturday on campus as KU gears up for the fall semester. The next day, KU residence halls open to incoming students.
It's anticipated the new chancellor will attend Monday night's Traditions Night, an event designed to familiarize new freshmen with some long-standing KU traditions. Obviously, the new chancellor, who has spent the last 38 years at the University of North Carolina, will be learning a few new traditions herself.
On Wednesday — Aug. 19 — she'll give her first major speech as chancellor during the 2009 Convocation at the Lied Center. That is the ceremonial opening of the school year for students, faculty and staff.
She also will take part in presentations of some of the Kemper awards, which are given during the first week of school to faculty members in surprise visits to classrooms.
Bretz said Gray-Little also will travel the state, visiting KU's various campuses.
Soon after her arrival, plans will begin for a chancellor installation ceremony. The university will invite delegates from other Association of American Universities members, among others, to attend.
When Gray-Little accepted the job as chancellor, no administrative or faculty position was included for her husband, Shade Little, newly retired as an assistant dean of academic services at North Carolina.
One role that Shade Little will inherit — as the spouse of the chancellor — is honorary president of University Women's Club, which consists of employees of KU and spouses of those who work at the university.
"Isn't that dandy?" said Faith Greenwood, president-elect of the social and service organization that sponsors scholarships for women students.
Greenwood said the club has been told Little is looking forward to serving in the role, and intends to host the group at the chancellor's residence soon after he and his wife arrive in Lawrence.
Bretz said Little likely will continue to find ways to work with young people and mentoring in the community.
Copyright 2018 The Lawrence Journal-World. All rights reserved. This material may not be published, broadcast, rewritten or redistributed. We strive to uphold our values for every story published.