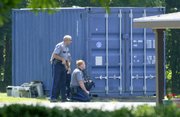 A North Lawrence motel was evacuated Thursday before two dozen law enforcement officers surrounded the business and arrested a robbery suspect holed up inside a room.
Armed with rifles and other guns, officers apprehended the 17-year-old suspect, of Lawrence, after getting him to come out the front door of room No. 19 at Jayhawk Motel, 1004 N. Third St.
About two dozen Lawrence police officers and Douglas County sheriff's deputies stationed themselves around the motel grounds, hiding behind trash cans and buildings, before the takedown, which occurred at 12:15 p.m.
"After we had a perimeter set up, (we) made phone contact with the suspect at the room, who then came out and gave himself up," said Sgt. Bill Cory, Lawrence police spokesman.
Officers charged the suspect at gunpoint, yelled at him to get to the ground and took him into custody.
Cory said that the robbery occurred at 11 a.m. nearby, in the 900 block of North Third Street, and that the 18-year-old victim, also of Lawrence, was known to the suspect. The victim called police about the robbery.
Before the arrest — which Cory called a dangerous situation — officers went door to door and evacuated everyone staying at the motel.
"We made sure that nobody was in harm's way before we made contact with the suspect," Cory said. "The suspect was possibly armed with some type of firearm. That, obviously, heightens the safety of the civilians and the law enforcement personnel."
Guests at the motel were allowed to return to their rooms after the suspect was handcuffed and taken to Douglas County Jail on a charge of aggravated robbery.
"It went very well," Cory said of the arrest. "The suspect complied, came out and gave up."
Copyright 2018 The Lawrence Journal-World. All rights reserved. This material may not be published, broadcast, rewritten or redistributed. We strive to uphold our values for every story published.