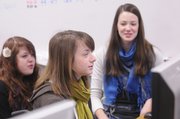 More information about the fundraiser
If you are interested in participating or if you'd like more information about the "Run for Erica," contact Sue Reiske, 979-7042, Mreiske@aol.com; or Nora Sakumura, 393-4949, nsakumura@hotmail.com.
The deadline to enter the March 28 race is March 1. The event will be at Free State High School, where Erica Smith is a senior.
After a 17-year-old Lawrence girl was paralyzed in a car accident last summer, the community supported her and her family — hosting benefit concerts and fundraisers to help pay for her medical bills.
Although it's been five months since the accident, people have not forgotten. And this spring, friends of the family will be host to a run in honor of Erica Smith.
Smith, a Free State High School senior, was ejected from the back seat of a moving vehicle last August and was flown to Kansas University Hospital. Smith was paralyzed from the waist down, and after several months in the hospital and therapy, she is finally getting back to her life.
"I just went back to school last week, and that's been different and tiring because between that and therapy, it's a long day," Smith said recently. "I'm really glad to be back and getting back to normal."
The one-vehicle accident that injured Smith, who now uses a wheelchair, occurred Aug. 5 when the car she was in swerved to avoid another vehicle — and then hit a drainage culvert and flipped several times. The accident happened on West Sixth Street near Queens Road.
In addition to her classes at Free State, Smith goes to both physical and occupational therapy. Smith, a former runner, said it would be much tougher for her without the support of her friends and classmates.
"There wouldn't be anything to look forward to — it just really helps cheer me up and keep me in a good mood," she said.
Smith's mother, Terry, works as a receptionist at Reed Medical Group in Lawrence. Several of her co-workers are helping organize a run this spring to honor Erica and help raise money for the Erica Smith Foundation.
Sue Reiske, an administrative assistant at Reed Medical Group, said she is glad there is something she can do.
"It just seemed like this family could use some help," Reiske said. "We'd been so lucky not to have any tragedies, and they have really been through a lot."
The deadline to register for the race is March 1. The event will be March 28 at Free State High School.
"It was just really overwhelming for my husband and I both," Terry Smith said of the backing of the community. "The support and the love and just everybody coming together."
Copyright 2018 The Lawrence Journal-World. All rights reserved. This material may not be published, broadcast, rewritten or redistributed. We strive to uphold our values for every story published.