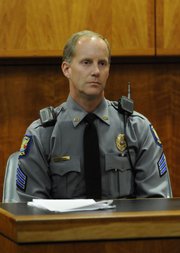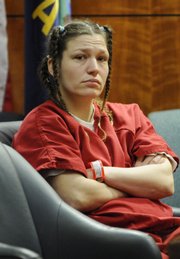 Lawrence Police Officer Hayden Fowler went through a lot on Dec. 2.
He was in three wrecks, witnessed a fellow officer being hit by a car and drew his gun on a suspect twice, all in a matter of minutes.
Fowler became emotional Tuesday afternoon as he recalled the events in Douglas County District Court. He testified he was at the center of the high-speed car chase and eventual apprehension of Barbara Jo Schnegelsiepen, 27, of Topeka.
"She smiled and accelerated the car into the passenger's side of my car," said Fowler, who became choked up on the stand.
Schnegelsiepen faces 11 charges, including two felony counts of aggravated battery on a law enforcement officer. Prosecutors said she led officers on a chase as they tried to apprehend her in connection with reported burglaries at two Lawrence homes. The chase led officers into rural areas of the county west of Lawrence and reached speeds in excess of 90 mph, Fowler said.
Schnegelsiepen passed several vehicles in no-passing zones and crossed the center line in front of oncoming traffic, causing three cars and a dump truck to stop on the side of the road, Lawrence Police Sgt. Craig Shanks testified.
"It appeared to be completely intentional," Shanks said.
"She thought that police were supposed to stop chasing people if cars … were being forced off the road," Lawrence Police Detective Sean Brown testified, in recalling an interview with Schnegelsiepen after the chase.
Schnegelsiepen intentionally drove at Lawrence Police Officer Doug Payne on U.S. Highway 40 east of Big Springs and then corrected her approach as the officer tried to get out of the way, Chief Assistant District Attorney Dave Melton has said. Payne was taken to a Kansas City-area hospital after being hit by the car. He was later released.
It's alleged that Schnegelsiepen abandoned a blue Jeep-type vehicle west of Lecompton that was used during the first leg of the chase and continued the chase in a white Dodge Stratus.
Fowler said he was behind the white car for much of the chase and slammed his patrol cruiser into it two times to bring the chase to an end.
"I drove my patrol car as fast as I could into the right passenger's side wheel," he said.
Brown testified that Schnegelsiepen told him she was afraid there was a warrant out for her arrest and that she wouldn't get to see her children for Christmas if she were arrested.
At the conclusion of the preliminary hearing, which is scheduled to resume this morning, District Judge Peggy Kittel will decide whether enough evidence exists for Schnegelsiepen to stand trial on the charges.
Schnegelsiepen is being held in Douglas County Jail on $350,000 bond. Kittel denied a request to reduce Schnegelsiepen's bond to $100,000 during a Dec. 16 hearing where Johnson said the woman's family was willing to put their house as bond collateral.
Schnegelsiepen has an extensive criminal history throughout northeastern Kansas, including convictions for possessing opiates, opium or narcotics; having a fictitious or revoked driver's license; theft of property valued between $1,000 and $25,000; criminal trespass; and battery of a law enforcement officer. Those charges were from Jackson and Shawnee counties. Douglas County prosecutors said the woman was on probation in Shawnee County at the time of the chase.
Copyright 2018 The Lawrence Journal-World. All rights reserved. This material may not be published, broadcast, rewritten or redistributed. We strive to uphold our values for every story published.