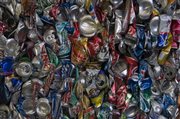 Though recycling numbers at Kansas University are strong, recycling officials hope to increase the levels with additional programs in the spring semester.
Those initiatives include participation in a national contest and potential drop-off recycling events, said Celeste Hoins, the recycling program's administrative manager.
The upcoming competition, called RecycleMania, pits several different schools against each other to determine who can recycle the most material in a 10-week period.
KU recycled 542 tons of material during the 2008 fiscal year — an increase of five percent from the previous year. Averaged out to a 10-week period using those figures, KU would recycle more than 208,000 pounds for the competition.
That would put KU in 55th place among the 178 schools that participated in the contest in 2007, the latest year that figures were available. The numbers would have lagged behind the University of Missouri, which recycled 238,000 pounds of material during the 10-week period, and other schools like Texas and Colorado.
Both of those schools finished in the top 20.
Hoins hopes to play up the competitive element and use some active marketing to increase awareness of the competition.
"I think a little healthy competition is good to maybe encourage people to provide that extra incentive and a little bit more motivation to encourage people to participate in our program and learn more about what they can do," Hoins said.
KU will be competing in several different aspects of the competition, which will run from Jan. 18 until Spring Break, Hoins said.
"We're going to try to see if we can't get a better place than we would have without any promotion," Hoins said.
Bobby Grace, a Prairie Village junior and an officer with the KU Environs, said he hoped the competition would drive up participation on the campus.
"I think getting competitive about it could get people pumped up," he said, particularly if students could see where KU fared in comparison to other schools.
Although plans are tentative, Hoins said KU Recycling hopes to begin using mobile trailers to provide recycling drop-off events on campus. They could become a monthly event on a designated day and time.
A monthly event would provide the convenience of an on-campus, drop-off site without the cost of maintaining a permanent one like those found at Wal-Mart, Hoins said.
Also, the program is looking at adding plastic bottle drop-off receptacles at the Edwards Campus in Overland Park and an effort to increase plastic bottle recycling at Allen Fieldhouse.
Copyright 2018 The Lawrence Journal-World. All rights reserved. This material may not be published, broadcast, rewritten or redistributed. We strive to uphold our values for every story published.