Photo Gallery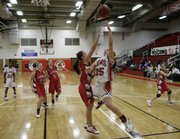 Lawrence High School girls vs. Concordia
Taylor Bird hates losing.
She made that fairly clear when she failed to realize she had just turned in a killer performance in Lawrence High's 76-68 girls basketball loss to Concordia on Tuesday at LHS.
"Wait, did you just say 33 points?" Bird quietly asked during a postgame interview.
Yes, 33 points, 11 rebounds and five steals. But she quickly downplayed that stellar stat line since the Lions were unable to knock off the undefeated Panthers.
"The whole team hates losing," she said. "We're not used to it. We just need to play harder and stronger."
After a back-and-forth first quarter that featured a couple of lead changes and ended with the score knotted at 17, the Lions went cold. In fact, the team scored only 10 points in the second quarter and went to the dressing room down by double digits, 37-27.
"We had too many brain-freezes where we gave up easy layups and let them push the ball up the floor," LHS coach Kristin Mallory said. "It was a complete mental breakdown defensively."
The Lions spent the third quarter trying to erase the deficit, but the Panthers responded to every ounce of momentum gained by the Lions.
A comeback appeared to be in the works in the fourth quarter, however, thanks to some timely shooting from Bird and Jordyn Tolefree. With just under four minutes remaining, Bird intercepted a Kaitlin Woellhof pass and found Tolefree in transition for a three-pointer. A Concordia turnover on the ensuing trip down the floor, and another three-pointer — this time from Bird — fueled a 6-0 run to bring the Lions within two.
But just as it had all night, Concordia answered the call with a solid press break and pulled away to finish the contest, propelling it to 7-0 on the season.
"We, at times, did some really nice things," Mallory said. "At times we played well enough to win. But you can't let a team score 76 points and expect to win the game. We don't have the firepower we've had in the past. We can't win a game when we give up that many points."
Concordia's Karly Buer provided the spark for the Panthers with 17 first-half points. She finished with a line nearly as impressive as Bird's, tallying 26 points, seven rebounds and four assists.
Tolefree finished with 11 points on 4-of-7 shooting from the field. Junior Jasmyn Turner added seven points and nabbed four steals.
The Lions (3-4) will travel Friday to Olathe Northwest.
Copyright 2018 The Lawrence Journal-World. All rights reserved. This material may not be published, broadcast, rewritten or redistributed. We strive to uphold our values for every story published.