Photo Gallery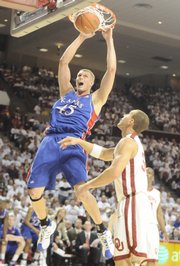 KU at OU
Audio Clips
2009 KU-OU Feb. 23
Norman, Okla. — Oklahoma guard Willie Warren thought some good could come from the Sooners playing without their top player, Blake Griffin.
Maybe the Sooners could rally around each other. Maybe they could come closer together as a team.
OU coach Jeff Capel wasn't buying the argument after his team's 87-78 loss to Kansas University on Monday at Lloyd Noble Center.
"Look, I want him (Blake) out there. It may be freshman inexperience talking there," Capel said with a smile. "Every situation can help. I tell guys, and my grandfather used to tell me when I was younger, 'You can learn something from anybody, even a fool. You can learn how not to be a fool by watching him.' So you can learn from every situation, and certainly these are opportunities for us to learn and grow and get better.
"But their coach would prefer to have him out there."
The Sooners certainly could have used their sure-fire All-American on Monday night.
KU's Cole Aldrich dominated the boards, grabbing 20 of the Jayhawks' 38 rebounds.
"He's a smart player. He knows how to use his body and use it against opponents," OU's Taylor Griffin said of Aldrich. "It definitely was a tough assignment."
Warren and Taylor Griffin both said they were looking forward to playing the nationally televised game without their star.
Blake Griffin, who was averaging 22.0 points and 13.8 rebounds, sat out Monday's game after suffering a concussion Saturday against Texas.
"There's a reason we've been so high in the polls all season. We have guys that can play ball besides him," Taylor Griffin said. "We were trying to look at this game as an opportunity to go out and show that."
Oklahoma didn't score its first field goal of the second half until the 10:25 mark, and the Sooners fell behind by as many as 20 before storming back.
OU trimmed the lead to three twice, but both times KU guard Sherron Collins answered with threes of his own.
"Down the stretch, it just came down to who was making the plays," said Warren, who finished with a team-high 23 points. "I was just trying to make plays to put my team in a position to win the game, and Sherron was trying to make plays to keep his team ahead. He obviously made more plays because his team came out with a win."
The comeback was largely helped by bench players Omar Leary and Cade Davis, who combined to hit six of 11 threes in the final 7:59.
Capel had high compliments for the Jayhawks, who took over sole possession of first place in the Big 12 with the victory.
"They have enough experience at the two most important spots," Capel said. "I think they have the best point guard in the league in Collins, and he certainly showed that tonight, and I think they have one of the best big guys in the league with Aldrich. He was terrific tonight as well."
Copyright 2018 The Lawrence Journal-World. All rights reserved. This material may not be published, broadcast, rewritten or redistributed. We strive to uphold our values for every story published.