Photo Gallery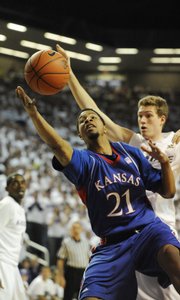 KU at KSU
Audio Clips
2009 KU-KSU Feb. 14
Uncalled for
Cole Aldrich fell victim to a cruel prank by a Kansas State fan this week.
The fan — who said he cell-phoned Aldrich to harass Kansas University's big man in days leading up to the KU-KSU game — claimed Aldrich called back and left an obscene message on the fan's phone.
The fan, who faked Aldrich's voice, even put the obscene message on youtube.com. It received play on deadspin.com and even in Bloomington, Minn., native Aldrich's hometown newspaper.
"No, that was not me," Aldrich said after scoring 21 points and grabbing seven rebounds while playing 36 minutes in KU's 85-74 victory over Kansas State on Saturday in Manhattan.
"I heard it a few times. My buddies called and said, 'Did you do that?' I said, 'Hey, you know who I am. Do you think I have the character to do that?'
"I think it's one of those things that the rivalry does. Students get a little carried away, say, 'Let's find a way to pump our team up.' It's how that was. It's unfortunate something like that has to happen, but it happens."
New mask worked well
Aldrich wore his new Richard Hamilton-like face mask for the first time Saturday. He'd worn a more intrusive mask for four games since busting his nose on Jan. 28 at Nebraska.
"I like both masks. Both are good," said Aldrich, who said he wasn't sure if he'd wear a mask Wednesday against Iowa State (7 p.m., Allen Fieldhouse). "One shot today I think (Luis) Colon whacked me in the face. I was like, 'Oh, I didn't even feel that.' It's working really well."
What a lob
Aldrich caught a deep lob from Sherron Collins and slammed, giving KU a 53-49 lead with 14:11 left.
"I threw it and knew it was the right pass. I was just waiting on Cole to throw it down," Collins said.
Aldrich noted: "I got to halfcourt, Tyshawn (Taylor) gave me a little push in the back that gave me a little energy to run. I saw the ball out of the corner of my eye. I tried to grab it and throw it down. I don't even know how I caught it."
Russell in the house
Former KU guard Russell Robinson, who plays for Reno (Nevada) in the NBA's Developmental League, attended and sat behind KU's bench. Former Jayhawks Mario Chalmers and Brandon Rush, who are on NBA all-star break and also back in town, did not attend, though Chalmers was at KU's women's game versus Oklahoma on Saturday night.
"I'm more nervous watching than playing," Robinson said. "Those guys are young. They're doing great."
He started the year playing pro ball in Turkey.
"I wouldn't say I hated it, but I didn't like it there," Robinson said. "There was a culture shock. It's fun to play in the D-League. I have hopes of playing in the NBA someday, and it's a way to get there."
Of KU, he said: "I watch the games whenever I can. I'm an alumni. I miss college. I miss the fans. I wish I could be here, but I'm moving on with my career."
Calf bruise
Brady Morningstar iced his lower-left leg after the game.
"I bruised my calf. It's fine," Morningstar said after hitting four threes in as many tries and finishing with 12 points in 32 minutes.
KU vs. KSU in Okie City?
K-State's Jacob Pullen, who scored 22 points off 5-of-11 shooting (4-9 threes), was asked if he wanted another shot at KU. The 'Cats lost to their rivals by 16 in Lawrence and 11 Saturday.
"As a team, we know we're capable of beating them, and we know we get another chance in Oklahoma City (site of Big 12 tournament)," he said.
Coach Frank Martin said: "I don't like getting swept by anybody. You beat me ... that's OK if I get to play you again. It's the opportunity you are looking for. It's kind of the approach our team has taken. We let a great opportunity slip out of our hands."
Martin on Morris
Martin said it about Marcus Morris, who scored 15 points with seven rebounds and four assists:
"That's a credit to Bill (Self) and that young kid. He's a freshman, and he's so much better than he was in November and December."
KU's Collins on Morris: "That's the real Marcus, aggressive, making plays, hitting threes, jumpers, posting, doing it all. He keeps teasing us, showing glimpses of it, but he is coming around, turning the corner. I look forward to seeing more of that from him."
Celebration
Collins asked Taylor for the ball before the final horn. He tossed it into the air and stared at Kansas State's loud student section in celebrating the victory.
"They were taunting us the whole game. I just gave a little of it back," Collins said.
Morningstar on the crowd: "I don't know if our crowd is as angry. It's an angry crowd. It feels good to get a win and leave this place."
Stats, facts
KU netted its 20th victory. It's the Jayhawks' 20th consecutive 20-win campaign. ... KU is 9-1 in the Big 12 for the first time since the 2004-05 season. ... KU is 20-1 in Bramlage Coliseum. ... KU started the group of Collins, Morningstar, Aldrich, Tyrel Reed and Mario Little for the first time. It marked Reed's second start and Little's third. Little played just one minute the second half, giving way to Marcus Morris, who went 19 minutes the final stanza. ... Multiple Jayhawks (Morningstar and Taylor) fouled out for the first time since the Michigan State game. ... KU was outrebounded by K-State, 29-27, marking just the fifth game KU trailed in the category.
Copyright 2018 The Lawrence Journal-World. All rights reserved. This material may not be published, broadcast, rewritten or redistributed. We strive to uphold our values for every story published.