Photo Gallery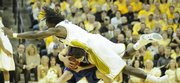 KU vs. Missouri
Audio Clips
2009 KU-MU Feb. 10
T talk
Kansas University freshman Marcus Morris picked up a technical foul after committing a personal foul, barking at official Scott Thornley just 39 seconds into the second half.
Saddled with four fouls, Morris sat the rest of the game.
"I would say at the time it was a momentum deal," KU coach Bill Self said, noting MU cut KU's 14-point lead down to eight just three minutes into the half. "We got it back to 11 twice after that. It didn't have much to do with it (loss).
"I'm not positive what was said," Self added. "I know that Scott would not have given him a 'T' unless he deserved it. Scott had every right to do it if our guy acted in a way he shouldn't have. I don't know what happened. Scott told me he deserved it. That's good enough for me."
Collins gassed
KU's Sherron Collins, who missed two free throws with 1:48 left, might have been a bit tired playing 36 minutes on a night MU pressed the entire game. He played 19 minutes the final half.
"No, I will not use that (as an excuse)," Self said. "The way the game was going, we wanted to do different things to rest guys. We didn't rest him the second half. I wasn't going to take him out under eight. He made some careless plays I don't think because of fatigue."
Collins, who said he felt fine physically, said it was a tough loss to swallow.
"It will linger because it's Mizzou," he said. "But it's something we've got to move on. We look forward to playing them in the fieldhouse (March 1), but we can't look forward to that now. We have another tough game coming up at K-State Saturday."
Stats, facts
KU's 27 turnovers were third most by a KU team since the 1988-89 season when specialty records were kept. KU had 27 against Arizona in 2005. ... MU has won 16 straight at Mizzou Arena. ... DeMarre Carroll led MU with 22 points off 8-of-13 shooting. ... The 122 total points are the second-lowest total in the KU-MU series in the Big 12 era. The previous low was 121 in 2004, a 65-56 KU victory.
KU's Little honored
Kansas junior forward Mario Little and Missouri junior guard Zaire Taylor on Monday were named co-Big 12 rookies of the week. Carroll was selected as the league's player of the week.
Copyright 2018 The Lawrence Journal-World. All rights reserved. This material may not be published, broadcast, rewritten or redistributed. We strive to uphold our values for every story published.