Photo Gallery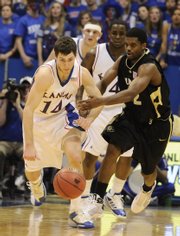 KU vs. Colorado
Audio Clips
2009 KU-CU Jan. 31
Collins has off day
Sherron Collins, who missed 12 of 16 shots, including nine of 10 three-pointers, simply chalked it up as a bad day.
"It was one of those days my teammates carried me when I was struggling," Collins, Kansas University's junior point guard, said after scoring 11 points with four assists and three turnovers in Saturday's 66-61 home victory over Colorado.
"I was going to keep shooting. Everything felt good coming off my hand. A couple rimmed in and out. I missed some shots I usually hit. It's all right, though," he added after KU improved to 6-0 in league play and 17-4 overall.
Despite his struggles, the 5-foot-11 Collins managed to come up with one of the biggest plays of the game. With the shot clock down to one, he hit a floater to up a 62-59 lead to five points with 23 seconds left. His two free throws at 4.8 seconds upped a 64-61 margin to five points again.
"I was able to get past the first guy, elevate and make the shot," Collins said of the floater. "At least that was one of my shots I knew was going in today."
Collins played with a sleeve on his left arm with a pad protecting his non-shooting elbow.
"I have a contusion they call it, a bruise. It didn't bother me. I just didn't want it to get hit again," Collins said.
Collins went 2-for-2 from the free-throw line, stretching his streak to 29 makes without a miss. School record is 34 by Wayne Simien (2004-05). Calvin Thompson made 33 straight free throws in the '83-84 season.
Cutting it close
KU coach Bill Self kept his cool on the bench, but was sweating a bit when the Buffs whittled a 21-point deficit to two.
"I was worried, obviously," Self said. "Tyrel made the three, and that let us breathe (giving KU 57-52 lead). I felt like all along we were going to win. But we had lost all momentum. We didn't have any juice defensively. We didn't create havoc, and we let them get comfortable. I bet you they scored 10 possessions with the shot clock under eight seconds."
Gym shoes
Coaches from KU and Colorado wore tennis shoes in support of Coaches Vs. Cancer. Also, the officials used special Coaches Vs. Cancer whistles. It is Coaches Vs. Cancer Suits and Sneakers awareness weekend.
Stats, facts
KU holds a 167-39 series lead over Colorado. The Jayhawks have won 13 in a row and 39 of 40 games versus the Buffs. ... KU has won 36 consecutive games in Allen. ... KU has won six straight games heading into Monday's game at Baylor. BU has lost three in a row. ... CU had a season-low seven turnovers. CU had eight against Iowa State. ... CU has lost 24 straight Big 12 road games. ... KU hit 19 of 20 free throws. It was KU's top effort since making 22 of 23 against Princeton on Dec. 22, 1999. It was KU's best effort in a conference game since going 17-of-18 against Oklahoma on Jan. 8, 2008. ... Markieff Morris scored a career-high 10 points. He was 4-for-5 shooting with four rebounds. ... Brady Morningstar played a career-high 39 minutes. .... CU outshot Kansas, 47.1 percent to 41.2, marking the second time the Jayhawks have won while being outshot this season. The Jayhawks have been outshot in only five of 21 games. ... KU had 37 rebounds to CU's 24. KU's bench outscored CU, 20-2. ... The Jayhawks were held without a field goal for 7:10 and scoreless for 5:30 during the middle portions of the second half. ... Colorado shot 65.2 percent in the second half, the highest mark against KU in a conference game since Oklahoma shot 68.4 percent on January 18, 1989. ... Perry Ellis, a 6-foot-8 freshman recruit from Wichita Heights, attended and sat behind the KU bench.
Bowl winners
KU's football team was honored for its Insight Bowl victory over Minnesota at halftime.
Copyright 2018 The Lawrence Journal-World. All rights reserved. This material may not be published, broadcast, rewritten or redistributed. We strive to uphold our values for every story published.