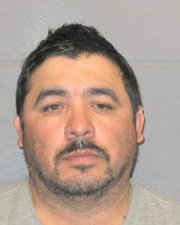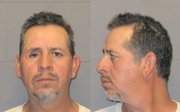 A warrant has been issued for the arrest of Jose Guerrero, one of two men charged in a Douglas County cockfighting operation.
The man did not show up for a brief appearance Tuesday in Douglas County District Court, prosecutors said.
Guerrero, 40, and Ezequiel Olivas, 44, were arrested in November on suspicion of conducting cockfighting, for allegedly breeding roosters on their property seven miles south of Eudora, to participate in the illegal blood sport. The sheriff said 169 birds were removed from the property.
The suspects are expected to be the first tried for the crime since a Kansas law was amended in July to make cockfighting a felony. Both men were released from jail on bond.
The case against Olivas, who is being represented by former Kansas Attorney General Paul Morrison, was continued to Jan. 26, prosecutors said.
Copyright 2017 The Lawrence Journal-World. All rights reserved. This material may not be published, broadcast, rewritten or redistributed. We strive to uphold our values for every story published.