Turner Gill: A new era
Photo Gallery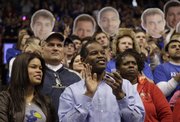 KU meets Turner Gill
KU Athletic Director Lew Perkins introduced Turner Gill as the new football coach at KU Monday morning.
Kansas University athletic director Lew Perkins said Monday that new head football coach Turner Gill will make approximately $2 million per year for the next five seasons.
Former coach Mark Mangino, who resigned earlier this month under pressure, was making $2.3 million a year, fourth highest in the Big 12.
Gill, who was introduced as KU's football coach during a Monday morning press conference, is expected to meet with the current players on KU's roster at a Monday night meeting.
Copyright 2018 The Lawrence Journal-World. All rights reserved. This material may not be published, broadcast, rewritten or redistributed. We strive to uphold our values for every story published.