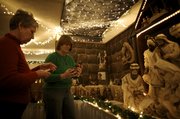 One story was told 500 different ways inside the walls of Centenary United Methodist Church.
From a nativity that featured the little town of Bethlehem to one composed solely of dogs (a West Highland white terrier stood yapping in the manger), the 15th annual Festival of Nativities took on many interpretations of the manger scene.
"There isn't a duplication. It is really most astounding," said Virginia Romero, who made the trip from Topeka to visit the display Saturday afternoon.
"Some are very solemn, some joyous, some are very funny," said Virginia's niece Joyce Romero. "It's amazing how many different emotions you feel while you are here."
Snowmen, bears and the gang from Charlie Brown also depicted Mary, Joseph and Jesus in different versions of the nativity. Some scenes featured teepees and buffalo. Others had lions, zebras and giraffes. In a nativity set purchased in Peru, figures stood with long necks, reflecting the importance of llamas and alpacas in the South American region. Another nativity set doubled as pieces on a chess board.
One area was dedicated to all glass nativities, their reflections glittering in the mirror behind them.
Church members spent around 300 hours setting up the display, organizer Connie Hadl said.
"It's days like this, meeting you and other people, that keeps you going," Hadl said after a visitor commented on how much she enjoyed the event.
On display were nativities made of limestone from Ireland, tin from Mexico, olive wood from Bethlehem, silk from India, bamboo from Japan, terra cotta from Italy and wool felt from Kyrgyzstan. The church holds nativities from more than 40 different countries.
Others scenes haven't traveled far at all. Among them was a papier-mâché tree made by Bishop Seabury students who painted a nativity scene inspired by Vincent van Gogh's "Starry Night." This year's new addition is a brightly colored quilted wall hanging that Hadl pieced together. And one nativity scene — made from brown paper — arrived anonymously on the church's doorstep last year.
The festival, open to the public from noon to 4 p.m. during the first three weekends of December, has 350 nativity displays and another 150 nativity scenes depicted in ornaments and wall hangings. More than 500 visitors are expected to come to the Centenary United Methodist Church, 245 N. Fourth St., to view them.
The festival is a favorite family tradition for Peter Steimle, who came with his four daughters and wife. The display helps remind the family that Christmas — and Christ — is celebrated throughout the world in many different ways, said Steimle, who was videotaping the pieces.
"What better way to get into the spirit of Christmas?" he asked.
Copyright 2018 The Lawrence Journal-World. All rights reserved. This material may not be published, broadcast, rewritten or redistributed. We strive to uphold our values for every story published.