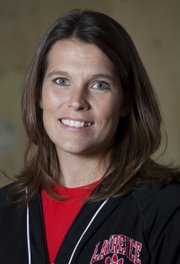 In 2008, Lawrence High volleyball coach Stephanie Magnuson left the Kansas Expocentre in Topeka with mixed emotions.
Sure she was glad to get her alma mater — Magnuson graduated from LHS in 1996 — back to the state tournament. But the Lions were swept in pool play.
This year, after a return trip to state, Magnuson left Topeka less perplexed and more hungry.
"That's what we talked about when I got here," Magnuson said. "We didn't want it to be this huge deal when we made it to state. We wanted to expect it and focus on winning state. And that's what we did this year."
Although the 2009 Lions again fell short of advancing out of pool play, they won one match, nearly won a second and gave the eventual state champions a pretty good fight.
"I was a little relieved the next day when the I saw that the two teams we lost to in pool play took first and second," Magnuson added.
For the most part, Magnuson was the same coach this season as she had been during her first two years in charge of the program. She emphasized discipline and accountability, mixed in as much fun as possible and tried to coach from the bench as hard as she asked her players to play on the floor. The one thing she did different was take advantage of talent.
"It was not something that I did consciously, but it was done because of the talent I had," Magnuson said. "Every one of my kids played club ball and had played for me before. That allowed me to skip past some of the basic stuff and get into more advanced coaching."
While leading the Lions to back-to-back state tourney appearances will stick with her for a long time, Magnuson said her favorite moment of the season came during the Lions' final regular season home dual.
"It was Senior Night, against Free State, the stands were packed and I just loved the environment," Magnuson said. "It was really super special for me."
LHS finished the 2009 season with a record of 24-18. While the Lions will lose three seniors from this year's team, they'll return six juniors who played key roles on this year's team.
"I'm so excited," Magnuson said. "Now I have kids who are returning that have been to state every year they've been in high school. They get it. They understand it. They believe it. And they want it."
Copyright 2018 The Lawrence Journal-World. All rights reserved. This material may not be published, broadcast, rewritten or redistributed. We strive to uphold our values for every story published.