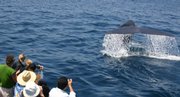 Los Angeles — You don't have to leave your desk to watch the whales and dolphins play in the Pacific Ocean off Southern California.
David Anderson has mounted seven cameras and built an underwater viewing pod on his 50-foot, high-tech, high-speed Catamaran and will take anyone along for a virtual ride at www.whalewatchingtv.com.
Anderson, a documentary filmmaker whose "Wild Dolphins and Whales of Southern California" was a winner at the Wildscreen Film Festival, wanted his latest venture to be more than a webcam.
"It's like a reality show. We have mikes on the captain and crew. You will hear things even the passengers don't hear. My crew was not real keen on this and there is a little friction, but they understand why we are doing it," he says.
When the boat is out, the cameras are on, the mikes are connected, and the action is live.
If you sign up on Anderson's Web site in the morning, he will tweet you when the boat is approaching a group of whales or a pod of dolphins. That lets you log on for the best of each trip. Recaps will also be available on the Web site each night, he says.
"It's so exciting because it opens whale watching to everybody in the world. If a teacher wants to take her class on a field trip and can't afford it or lives too far away, she can download all the information from the Web site," Anderson says. He said he wants everyone to know what is in the ocean so what is there can be saved.
Larry Zywicki, 45, of Milwaukee, his wife and two daughters were on the live whale watching excursion last week when they saw two blue whales playing in the water. "It was awesome and amazing and something I'll never see again. My wife and kids were thrilled," he says.
When their vacation is over, he looks forward to looking at the Web site: "I will probably see all the stuff I missed while I was taking pictures."
Copyright 2018 The Associated Press. All rights reserved. This material may not be published, broadcast, rewritten or redistributed. We strive to uphold our values for every story published.