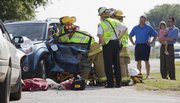 Two Lawrence drivers were injured in a collision just west of Lawrence Municipal Airport, the Kansas Highway Patrol said. The accident occurred around 9:40 a.m. Tuesday.
A highway patrol report said Lawrence Pringle, 71, was trying to pass a vehicle on the right when he hit a car driven by Bethany Roberts, 32, who was trying to cross U.S. Highway 24-40 on East 1500 Road.
Roberts was treated and released from Lawrence Memorial Hospital. Pringle was transported to Kansas University Hospital in Kansas City, Kan.
Copyright 2018 The Lawrence Journal-World. All rights reserved. This material may not be published, broadcast, rewritten or redistributed. We strive to uphold our values for every story published.