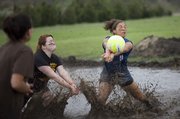 Fighting through a difficult economy and large investment losses, Kansas University Endowment Association officials are looking to better days in the future, as an anticipated capital campaign is in the works, and giving remains steady.
Dale Seuferling, president of KU Endowment, said the economy did not spare KU Endowment this past year.
"The support we provide the university is impacted by the investment returns," he said, which were down an estimated 20 percent during the last fiscal year. "We did see the necessity to reduce spending for endowed funds by 10 percent."
That action was taken last December, and since then, the market has stabilized somewhat, making it so further reductions have not been necessary, Seuferling said.
In December, the association took the action after reporting a $290 million drop in returns from July 1 to Oct. 31. However, in the next six months, the funds only declined an additional $30 million, Seuferling said, significantly slowing the drop-off.
The decline in the endowed funds has matched the market's performance during that time, and of many of the institution's peers, endowment officials said.
Still, the performance for the investment returns for KU Endowment was the worst since 2002, when the fund saw a 7.9 percent drop.
The losses mark a turn from the historical performance of the funds, which had averaging a growth rate of 9.7 percent, and since 1988 it has averaged a 10.3 percent growth rate.
The association also is responding to the losses by holding some positions open, deferring some capital improvements to its building and instituting a wage freeze for its employees.
Professional development and conference costs have also been scaled back, Seuferling said, along with printing and marketing materials.
However, giving to the Endowment Association set record levels of donations in the past year, which Seuferling said was a positive sign.
The association raised around $94 million in donations, the most in its history.
Seuferling said that attracting donations remains challenging in the current economic climate.
He said the association has responded by changing its tactics somewhat in asking for donations. Instead of asking people to fund an endowed scholarship gift, the association may ask people to fund three or five individual scholarships for students.
KU will also begin gearing up for a new capital campaign soon, after new chancellor Bernadette Gray-Little has a chance to review departmental requests for funding.
KU's last major fundraising campaign, KU First, ran from 2001 to 2004 and raised $653 million for the university.
Seuferling said schools and departments have been putting together wish lists for funding to forward along to Gray-Little so that they will be ready for her review soon after she begins her job.
It's a priority Gray-Little already has identified when the Kansas Board of Regents introduced her. She has said that she looks forward to a campaign to fund scholarships, professorships and other programs.
"I believe that fundraising can be a major asset and has to be a major component of funds for a modern research university of the complexity of KU," Gray-Little said.
Any new fundraising campaign would be tailored to Gray-Little's priorities for the university, and would be helped along by her clear articulation of those priorities.
"The leadership that the chancellor gives is absolutely critical for the donors," Seuferling said earlier this year, as she will be instrumental in setting goals and building consensus.
Seuferling said, although donors aren't necessarily interested in replacing dwindling state support, they often recognize that a campaign is the only way in tight economic times to fund some programs.
Most campaigns focus on the educational mission of the school, raising funds for student scholarships and endowed professorships, along with other costs. The exact nature of the upcoming campaign has not yet been determined.
Seuferling said he has been encouraged by some aspects of Gray-Little's personality that could translate well into fundraising, including her warm personality, confident demeanor and clear articulation of a vision for KU.
Fundraising ability was one of the marks of a new chancellor desired by the search committee that identified Gray-Little as a finalist, and identified by several on the Kansas Board of Regents, who said it was important to remember as the university faces reductions in its state levels of funding.
Some search committee members said that the new chancellor should be a "friend-raiser" in addition to merely a fundraiser, making new relationships that can benefit the university in the years to come.
A timetable for the campaign is not yet known, and will likely be determined by Gray-Little, Seuferling said.
Copyright 2018 The Lawrence Journal-World. All rights reserved. This material may not be published, broadcast, rewritten or redistributed. We strive to uphold our values for every story published.