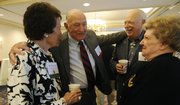 The Kansas University Alumni Association is starting to make plans to take care of the KU graduates of tomorrow.
Kevin Corbett, president of the Alumni Association, said officials have begun discussions on an addition to the Adams Alumni Center, located adjacent to campus at 1266 Oread Ave. That addition would be used to house student programs.
"Students walk by the building every day and see people coming out, and they think, 'This is a place for me when I'm 30, 40 or 50,'" Corbett said.
Having a dedicated space for students, Corbett said, would help to change that.
No specific plan, timeframe or funding source has been identified for the expansion, Corbett said.
But it's an idea that leaders of the Student Alumni Association love. The student association, with 1,600-some members, holds various activities throughout the year, including:
• An ice cream social to kick off the school year.
• Catered meals during finals weeks at the Adams Alumni Center.
• Dinners with alumni in various career fields, giving students a chance to learn and network.
"We want to get rid of this idea that students might have that they're not allowed in the center," said Brent Blazek, a senior from Lenexa and president of the Student Alumni Leadership Board.
He said the extra, student-dedicated space could be used for a variety of purposes, from studying to student meeting space to football tailgating.
"I think (students) would love that, if we could make that happen," Blazek said.
Corbett said connecting current KU students and alumni is important with the struggling economy.
"The more people we can have as members, just imagine the student of today, when they graduate from KU, we can tell them there's a network of 45,000 people who can help them," Corbett said.
That's one of many projects Corbett and the association staff and volunteers have on their plate for the 2009-2010 school year.
The association continues to expand membership, with about 45,000 members now on its rolls. Corbett would like to get that number to top 50,000.
At the same time, he's looking forward to organizing events to help alumni meet new Chancellor Bernadette Gray-Little, helping KU admissions officials recruit students from across the state, nation and world, and convincing alumni to lobby lawmakers like they did this year for the Johnson County Research Triangle proposal and the new School of Pharmacy buildings.
Corbett said the Alumni Association has opened a new office in Wichita and plans to eventually open other offices in the state and in other parts of the country where there are high concentrations of Jayhawks.
He said the Alumni Association is on solid financial ground, which is allowing the organization to look at expanding programs despite the bad economy.
"The Alumni Association is thriving due to the interest of our alumni and fans," he said.
Copyright 2018 The Lawrence Journal-World. All rights reserved. This material may not be published, broadcast, rewritten or redistributed. We strive to uphold our values for every story published.