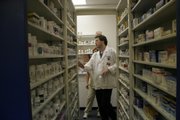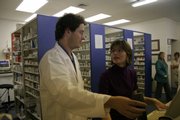 Minneapolis — Amber Woehl was on perpetual hold.
She was trying to transfer a prescription by phone to a chain pharmacy in Kansas City. It'd been more than five minutes since she'd made the phone call.
She rolled her eyes.
"This," she said, "is why I don't work for a chain."
Really, it's more complicated than that. Way more complicated.
Woehl and her husband, Joe, own City Pharmacy in this town of 2,000 north of Salina. The couple represent what some state health care officials hope is the trend of pharmacists in the future — those choosing to forego big bucks offered by chain pharmacies in favor of serving small towns, where the local pharmacist is often the first line of defense for those who are ailing.
It's a need the Kansas University School of Pharmacy is hoping to help alleviate by expanding its Lawrence location and opening a new branch in Wichita.
"Those (communities) without a pharmacy are particularly hurting," said Michael Larkin, executive director of the Kansas Pharmacists Association. "They might have to drive 30 or 40 miles for their prescriptions, especially in small communities. There are those things that are really key to the viability of a community — schools, medical facilities and a pharmacy. It's like a three-legged stool."
Turning away applicants
There are six counties in the state with no pharmacy. Thirty of the 105 counties have only one pharmacy.
Gene Hotchkiss, associate dean of the KU School of Pharmacy, noted that as drug therapies increase in effectiveness, the role pharmacists play in health care will increase. Treating ailments with medication often is more successful, and more cost-effective, than hospitalization.
"They are a significant partner in health care," he said of pharmacists.
With that in mind, KU secured $30 million in state bond funds to construct a $45.5 million, 110,000-square-foot facility on the West Campus in Lawrence. In addition, a $4.5 million floor will be added to an existing building on the School of Medicine campus in Wichita.
The expansion eventually will allow the pharmacy school to expand from 105 to 190 the number of students it accepts in its incoming class each year. The Lawrence building is set to open in fall 2010. A kickoff ceremony for the Wichita campus' construction was tentatively set for September as of press time, though no opening date for the Wichita campus was yet available.
In recent years, the number of pharmacy applicants at KU has been about four times the number of students that could be accepted because of space limitations in the school's current facilities.
"We're turning away a lot of good applicants," Hotchkiss said.
Of course, not all of those additional pharmacy students will work in rural, independent pharmacies. The School of Pharmacy trains students to enter a variety of practice fields, including research, hospitals and retail, and there's nothing requiring those trained at Kansas' only pharmacy school to stay in the state.
But Ken Audus, the school's dean, notes that around 65 percent of KU's active pharmacy alumni still practice in the state, and he has hopes the increase in graduates will mean more will stay here after they're done with their six years of pharmacy school.
That's especially important, he said, since the average age of independent pharmacists in the state is 54, according to the Kansas Independent Pharmacy Service Corporation. That will mean a lot of pharmacies will be for sale in the upcoming decades, with demand rising as more baby boomers want medications.
Small-town choice
There are some clear-cut differences between working for or owning an independent pharmacy and working a a chain.
Of course, there's the benefit of calling the shots and being an integral part of a community's health care system.
On the other hand, vacations can be tough to come by if you're the only pharmacist in town, and if someone needs medication dispensed in the middle of the night in an emergency, it's up to you to drag yourself out of bed and head into work.
And even though the average KU pharmacy grad made $115,000 right out of school this year, the money tends to be better — and more reliable — at chains than it does striking out on your own. Sometimes, that chain contract comes with a signing bonus and a car lease.
These are the pros and cons Joe and Amber Woehl weighed before buying City Pharmacy in Minneapolis when they graduated from KU in 2004.
"We thought about going to work (at a chain), getting big stacks of money and then going to buy a pharmacy," Amber Woehl admitted.
But Joe Woehl had worked at a chain in Kansas City in college and liked the idea of working in a small town, getting to know his customers on a more personal level. Plus, Amber Woehl grew up in the northcentral Kansas town of Belleville, so she had family in the area and knew Minneapolis would be a good place to raise children.
And there was an added plus. The previous owner, Dean Johnson, who had owned the store four decades before selling it, was willing to stay on part-time, allowing the Woehls to spend more time with their two boys, who are 22 months and 3 years old.
It can be busy, with the pharmacy filling about 200 prescriptions from miles around each day.
"We're working for ourselves, which makes a big difference," Amber Woehl said. "We like coming to work every day. We do not dread coming to work. The stresses all benefit me, Joe and my family — it's not benefiting some corporation somewhere. It's not 8 to 5, where I go home and not think about it. But I don't mind thinking about it."
'Big bucks'
Hotchkiss and Audus said it's not up to KU to convince more students to work in rural pharmacies. But they said it is the university's responsibility to keep independent pharmacy work as a possibility in the minds of their students.
To do that, the school and its chapter of the National Community Pharmacists Association organize a tour of pharmacies each year to give students an opportunity to see various workplace settings.
Julie Keeton, a second-year pharmacy student at KU, is among those students seriously considering work in a small-town setting. She grew up in Ness City, which is a town of 1,500 about an hour southwest of Hays. She worked as a technician in her hometown pharmacy, and she's seen how important the business is to the community.
But she also realizes it's not for everyone.
"The big bucks are tempting," Keeton said of larger pharmacies. "If they see a '$30,000 sign-on bonus to stay with us for five years,' and someone is $150,000 in debt, that would take a big chunk of that."
Still, Keeton is thinking about more than just money when she's pondering her career, and she's hoping KU's expansion will lead others to think about it, too.
"I want people to have access to their pharmacies, and I want their pharmacies to be good," she said. "It's kind of scary with the needs now. I hope what they're doing works."
Copyright 2018 The Lawrence Journal-World. All rights reserved. This material may not be published, broadcast, rewritten or redistributed. We strive to uphold our values for every story published.