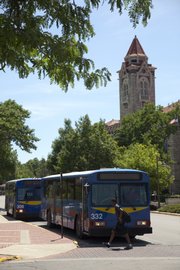 It was one year ago when the Lawrence Transit System and KU on Wheels created a partnership that allowed riders of one bus system to ride the other for free.
Now, their collaboration is getting stronger.
This month, the T and KU on Wheels will release a single route map book with all routes and timetables of both systems. The T and KU on Wheels also hope to soon share a single Web site and phone number. The two organizations are looking to share staff and larger maintenance facilities, said Danny Kaiser, assistant director of Kansas University Parking and Transit.
The two organizations will also begin their joint route, which combines the city's route 8 and KU on Wheels' routes 24 and 25. Derek Meier, transportation coordinator for KU on Wheels, said officials are anticipating big ridership for this new route. The route will be known as Route 11 and be on a KU on Wheels bus. It will serve downtown, campus and 31st and Iowa streets at 30-minute intervals.
Detailed plans of all coordination efforts can be found at www.getonthebuslawrence.org.
The partnership has been a result of an overlap of routes and the desire to gain efficiencies, Kaiser said.
It's also the result of public surveys, which revealed Lawrence residents wanted more cohesion with the two bus systems, said Robert Nugent, transit administrator for the Lawrence Transit System.
"That was one of the most resounding answers that we got," he said.
The two organizations have agreed to share the cost of joint projects, such as the route map book, Nugent said. Both T and KU buses will be used on the routes, but for the most part, he said, KU buses will be used on the most common routes. Nugent said the goal of the project was to make the coordination so flawless that bus riders "don't have to worry about whether it's a T or KU bus."
Meier said that since the reciprocal pass program, there has been a good ridership for the T by KU students, but not as many T riders using KU on Wheels.
KU on Wheels provided more than 2.2 million rides from July 7, 2008, to May 31, 2009.
The T has noticed a much greater number of KU students, faculty and staff using a KUID to ride its buses. The T has a total daily ridership of between 1,100 to 1,400 passengers per day, Nugent said. An average of 250 passengers per day use a KUID to ride the T.
It's been challenging to combine the different perspectives of the two organizations, but the coordination is exciting, Nugent said.
"It'll make it a lot more seamless to use both," he said.
As for a merger, Kaiser said it shouldn't be ruled out.
"It's been talked about, but there is no timetable," he said.
Three public meetings were scheduled in March to garner feedback from Lawrence residents on these proposed changes. The next round of recommended changes will be released in January.
Another bus system that runs locally is the K-10 Connector, a service of Johnson County. Kaiser said KU on Wheels has a cooperative working relationship with the bus system, which drops off riders at KU Park and Ride lot, located on 23rd Street.
Copyright 2018 The Lawrence Journal-World. All rights reserved. This material may not be published, broadcast, rewritten or redistributed. We strive to uphold our values for every story published.