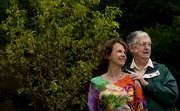 Rud and Ann Turnbulls' son, Jay, was the reason they got into disability research.
Jay was born in June 1967 with multiple disabilities. The Turnbulls made a career out of helping people like him, eventually becoming internationally known for their work.
Jay died suddenly in January. But don't think for a second that the Turnbulls' research will lose momentum.
"Jay was the centrifugal force that brought Ann and me together (in 1973) and influenced our work," said Rud Turnbull, a special education professor at Kansas University. "Our scholarly work is the story of Jay's life, and the history of developmental disabilities. We wouldn't be what we are today without Jay's insistence he be supported to lead an independent, useful life."
Ann Turnbull, also a special education professor, grew up in a small Southern town where her parents were bridge-builders for race relations.
"That foundation kindled my passion to have a social justice focus for my career," she said. "I was strongly drawn to children with disabilities, and special education was the perfect field for me."
Rud, an attorney at the time, moved into the field partly due to Jay's birth, and partly by accident.
In 1973, he was asked to assist with investigations into a state institution's use of aversives, including a "learning-to-be-better-box" containing two electric batteries, copper wires and small switch.
Rud asked the institution's leaders what the treatment felt like. They were surprised; they'd never used it personally.
"I removed my jacket, rolled up my sleeve, attached the wires, pulled the switch and nearly jumped out of my skin," Rud explained. "That's when I decided to devote my time to championing the rights of those with disabilities."
When they married in 1974, Ann asked Rud to bring Jay home from a private Massachusetts school.
"Jay was a darling little guy, and Rud loved him with all his being; loving Rud meant loving Jay," she said. "Instinctively I knew having our family together was the only way for us to live life to the fullest. Indeed, we have lived it to the very brimming fullest."
Shortly afterward, the Turnbulls co-authored "Deinstitutionalization and the Law" for the Journal of Mental Retardation. It ended with the line: "… bring all the Jays home."
This endeavor marked the beginning of the enduring academic partnership that merged their research with the 24/7 reality of parenting Jay.
They became involved nationally in championing the cause of people like Jay, and they were thrilled when Dick Schiefelbusch, a longtime KU researcher, recruited them to join KU's Special Education Department and Bureau of Child Research (now the Life Span Institute).
"KU was considered the world's mecca for developmental disability re-searchers, so we gladly left our jobs at Chapel Hill and headed for Lawrence," Rud said. "I remember driving over the Missouri River and seeing the wide-open rolling hills of Kansas against the clear August sky. I sensed very deeply: This is the land of opportunity."
It was.
In 1988, they won a federal grant to co-founded the Beach Center on Disability, housed in the Stewart Wing of Haworth Hall. They've served as co-directors since and, with colleagues, have raised more than $37 million for research that's enabled them, among other things to:
• Launch participatory research projects that require researchers to include parents/subjects from the beginning.
• Affect public policy with respect to newborns with disabilities and the use of punishing interventions.
When Jay completed high school in 1988, he became a KU employee and worked at the Beach Center until his death.
"Working at KU was a great shaping experience for Jay," Rud said. "It enabled him to achieve his dream. He became situationally competent, contributed to the community and lived independently.
"In his lifetime, disability policies on housing, transportation, health and general welfare have been mainstreamed. But the fight isn't over until people with disabilities can control their own lives and we can honor the lives they want to live. Jay's death doesn't mean his story does not continue."
The hope their experience with Jay will enable them to continue their work of reaching out to others.
"My father used to say, 'It takes an awful lot of knowledge to make a little bit of wisdom.' I have many sources of knowledge but very few sources of wisdom," Ann said.
"Jay was my wisdom source. I plan to take the nuggets of wisdom that Jay imparted and share those with students, families of children with special needs, individuals with disabilities, and professionals. I want to continue to help raise great expectations for what is possible in the lives of people with disabilities and then help put the supports in place for them to actualize full citizenship."
Copyright 2018 The Lawrence Journal-World. All rights reserved. This material may not be published, broadcast, rewritten or redistributed. We strive to uphold our values for every story published.