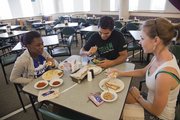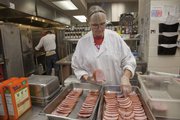 Top requests
These are the most popular foods at Ekdahl Dining Commons, according to Mark Maranell, general manager:
• Chicken tenders
• Pepperoni pizza.
• Cheesy breadsticks
• Crunchy chicken cheddar wraps
• Hamburgers
• Macaroni and cheese
• Chicken enchilada casserole
• Frozen yogurt
At the Ekdahl Dining Commons, also known as Mrs. E's, the on-campus dining hall center at Kansas University, completed suggestion cards from students pepper a corkboard in a hallway.
Students rave about Mrs. E's scones. They ask for more gluten-free options. They say they love everything available.
Serving thousands of KU students each year, Mrs. E's has a lot of people to please and plenty of food preferences to consider.
"We continually seek student suggestions," said Mark Maranell, general manager of Mrs. E's.
Serving students with hectic class and work schedules leads Mrs. E's to keep that in mind with their meal options.
"Meal plan portability and our meals-to-go are ways we've tried to accommodate the busy college lifestyle," Maranell said.
One of the most popular accommodations Mrs. E's has had to make is providing feeding to those with food allergies.
"In the 25-plus years I've worked here," Maranell said, "we've always had people with food allergies, but that's increased."
Maranell said gluten and dairy allergies have been the most prominent among students. He said Mrs. E's has labeled food items thoroughly, educated staff and stocked gluten-free food to accommodate to the trend.
Also to help students with food allergies is NetNutrition, an online nutrition analysis program available on the KU Dining Web site at http://union.ku.edu/netnutrition.shtml. With this program, students can know what foods to avoid at Mrs. E's that contain allergens they shouldn't consume, said Sheryl Kidwell, assistant director of KU Dining Services.
NetNutrition also can be helpful for students who are curious about their meals' nutritional values.
Another program to help students choose wholesome options is Better Bites, a healthy eating initiative that identifies healthy food on the KU campus with a logo. These foods meet American Heart Association guidelines by limiting fat to 30 percent of daily total calories, according to the KU Dining Web site.
Maranell said some, but not all, students have been concerned about weight gain from their eating choices.
Mrs. E's has promoted moderation to deal with weight gain concern, Maranell said, by offering "trayless service," which has eliminated trays in the dining halls, except for students who need them. KU is one of about 40 schools that belongs to the National Association of College & University Food Services (NACUFS) and offers "trayless services," according to the NACUFS Web site.
"Students are more likely to take just what they can carry," Maranell said.
But not all students are convinced. Sara Minor, a Lawrence junior who lived in Hashinger Hall last school year, said the trayless service made it more difficult for students to carry their food, but that they eventually got used to it.
"We didn't eat less," she said, adding that she thought students just used more plates and visited the food bar more often.
Kidwell said buying local food was the newest trend in colleges and universities.
"We work to buy and support local growers and businesses," Maranell said. "That is a new focus. We currently support a local coffee company and have our own rooftop herb garden. We have plans to expand local purchasing."
Kidwell added that although local growers can't provide the quantity of food necessary to accommodate all KU Dining customers, KU Dining has on occasion purchased asparagus and sweet potatoes from Pendleton's Country Market near Lawrence.
When asked what foods will always be a staple at Mrs. E's, Maranell said vegetarian and vegan options.
"It's hard to say what percentage of our customers are vegetarian," Kidwell said, but "they're a vocal group."
Minor, who eats at Mrs. E's almost every day during the school year, said the omelet bar was also one of the most popular options at Mrs. E's among her friends when it was first introduced.
"Overall, the food was really good for being on-campus dining," she said. "(My friends and I) didn't mind eating there."
Copyright 2018 The Lawrence Journal-World. All rights reserved. This material may not be published, broadcast, rewritten or redistributed. We strive to uphold our values for every story published.