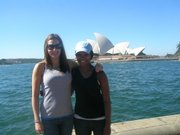 The spread of swine flu, the unstable economy and unrest in parts of the world have officials Kansas University's Office of Study Abroad keeping close tabs on their programs worldwide.
"We decided to pull our summer program in Puebla, Mexico, because the departure date for the program was so close to the announcement regarding the increase in cases of H1N1 (flu virus) in Mexico," said Sue Lorenz, director of the Office of Study Abroad.
But, Lorenz said, because of the popularity of this particular program, the plan is to reinstate it next summer.
"We were able to redirect a number of those students who were in that program to other programs," Lorenz said, adding that, as of press time, students would be allowed to study in Mexico this fall.
"We are always working to prepare students for their study abroad experiences, and this includes making sure they are aware of screening procedures they may encounter as a result of H1N1 or other factors," Lorenz said.
The Office of Study Abroad always is monitoring State Department guidelines for travel and work closely with directors of the various programs so they can make changes in students' itineraries if needed.
"Our No. 1 priority is the safety of our students. We will not put our students in danger," Lorenz said.
During the 2006-2007 school year, KU ranked 11th nationally among public universities in number of students studying abroad. The ranking was issued by the Institute of International Education, which also indicated about 27.5 percent of KU undergraduate students participate in study abroad programs.
Anne Culnane, a senior from St. Louis Park, Minn., spent the spring semester of her junior year studying in Newcastle, Australia. The sports management major wanted to study abroad to learn about another part of the world.
"This will probably be the only time in my life when I can just 'take off' for four months. With school, it was easy to go there and continue my studies," Culnane said.
Opportunities to study abroad are offered in many different disciplines and for a variety of lengths of time, from yearlong to summer session, or even programs that allow students to study abroad over winter or spring breaks. There also are opportunities to serve in internships abroad.
Lorenz said that students and parents understand that study abroad is an investment, so even though the economy may be tight, many students are still participating in the programs.
"We work hard to keep costs down and try to make students aware that they can often use financial aid for study abroad programs," Lorenz said.
Culnane pays out-of-state tuition at KU, but she said while studying abroad she was able to pay in-state tuition.
"I probably spent just about the same amount of money to go there, travel around, attend school and live in the dorm as it would have cost me to attend school here as an out-of-state student," she said. "It was totally worth it."
Copyright 2018 The Lawrence Journal-World. All rights reserved. This material may not be published, broadcast, rewritten or redistributed. We strive to uphold our values for every story published.