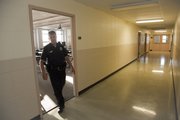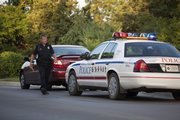 Kansas University is not immune to crime, and the university's public safety office is responsible for protecting the 30,000-some students, 6,000 employees and 174 major buildings on campus.
James Druen is one of 29 commissioned police officers employed by the university who investigate and solve crimes on campus, and otherwise keep the peace at KU.
"I like being able to help people," said Druen, 30. "I like dealing with younger adults."
While a typical day for officers includes riding around campus on two-wheeled Segway Personal Transporters or patrolling Jayhawk Boulevard by foot and interacting with students, officers also respond to burglary alarms, thefts and medical emergencies.
But the police officers — who carry guns, wear badges and receive the same training as other law enforcement officers in the state — also are equipped to handle more serious criminal reports, such as robberies and rapes.
In 2008, 723 crimes were reported on KU's Lawrence campus, including five violent crimes. The overall crime total marked an increase of 9 percent over the year before.
"It's not always all happy," said Druen, a six-year veteran of the KU police force. "I've dealt with rapes before in my career, and those are just bad things."
In the spring, KU officers responded to the death of a freshman who fell from the roof of a campus dorm. They also investigated a handful of robberies on campus.
But there also is the unthinkable situation KU police officers haven't been faced with, hope they never encounter but train for regularly: campus shootings.
"We try to train and be ready for it if it happens, because you can't ever say that that's not going to happen to us," Druen said.
KU officers began active shooter training after the April 1999 Columbine High School shooting in Colorado, which left 12 students and a teacher dead.
On April 16, 2007, 32 people were killed by a student at Virginia Tech University, serving as a reminder to campuses nationwide that they're all vulnerable.
"That's probably one of our worst nightmares," said Druen.
For officers, a slow day is a good day.
Uniformed officers patrol the KU campus around the clock and take their calls from a dedicated dispatch center inside the public safety office, 1501 Crestline Drive, located north of Bob Billings Parkway, between Iowa Street and Kasold Drive.
"Sometimes you come out, and sometimes you're just call to call," said Druen.
Officers are split into three shifts — 8 a.m. to 6 p.m., 4 p.m. to 2 a.m. and 10:30 p.m. to 8:30 a.m.
In their down time — when they're not responding to calls — the officers monitor stop signs on campus, pulling over drivers who run them, and also run radar on campus and city streets that surround the university. KU police share jurisdiction with Lawrence police officers on those boundary streets, giving them the authority to issue tickets for speeding and other traffic infractions.
"Watch out for the hills," Druen told one driver, after giving him a warning for driving 40 mph in a 30 mph speed zone near 19th and Maine streets.
Officers also check buildings and the university's underground steam tunnels for vagrants and others who have no reason for being on campus, a job they share with nine members of a separate security force that's also employed by the public safety office.
Then there's football and basketball games, when swarms of people invade the campus, giving officers even more to deal with. They're responsible for controlling traffic and ensuring that fans aren't out of line.
Officers also escort coaches and other high-profile individuals at campus events.
Druen recalled protecting University of Missouri basketball coach Mike Anderson, a job he was assigned by his superiors, primarily because Druen is originally from Missouri. He graduated from Southwest Missouri State University.
Overall, Druen said he enjoys the pace of his job, and while it has had its moments — like the time he and four other officers had to break up a large brawl between fraternity members — he enjoys making the campus safer.
"This is a job," he said, "that a lot of days if you help somebody out, you can go home in a good mood."
Copyright 2018 The Lawrence Journal-World. All rights reserved. This material may not be published, broadcast, rewritten or redistributed. We strive to uphold our values for every story published.