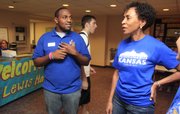 The population of central Lawrence jumped by at least 3,000 on Sunday as Kansas University students moved into five residence halls on Daisy Hill and Oliver Hall at KU.
While the day started with rain, the skies cleared and parents and students started settling in.
"It was a little difficult to let the first one go, but the process went well," said Jim Stadler, of Silver Lake. He made six trips from the parking lot, using both the elevator and the stairs, to move his freshman daughter into her room at Ellsworth Hall.
"She brought her whole closet of clothes, which, when you're downsizing 50 percent of your closet, makes you wonder why you brought everything," Stadler said.
But some parents had a year of experience under their belt.
Scott Speegle, of Oak Park, Ill., moved his son, sophomore Kieran Ford, with ease this year.
"Make sure that everything is packed, not in individual pieces all over," said Speegle. "Try to get here early. Get carts. Get in early."
Ford lived in Oliver Hall last year and feels he's upgrading by living in Hashinger Hall for his second year at KU.
"I knew that these were newly renovated," Ford said. "I got a whole tower of ramen (noodles). That's a must."
Other freshmen who had moved in Friday lent helping hands to their peers moving in Sunday.
"It was pretty long," said Overland Park freshman Lauren Richter. "It was rainy this morning and everything."
Richter and her roommate, Dana Whetter, were friends in high school and both learned a quick lesson -- pack light.
"I saw a lot of people leaving with things, like coffee tables, that didn't fit," said Whetter.
Now that students are moved in, they must learn all things KU, starting with Traditions Night, starting at 8 p.m. today at Memorial Stadium. The session will be followed by the Night on the Hill concert.
Hawk Week also includes the 144th Welcoming Convocation, given by new KU Chancellor Bernadette Gray-Little, at 7:30 p.m. Wednesday at the Lied Center.
The fall semester officially begins on Thursday.
Copyright 2018 The Lawrence Journal-World. All rights reserved. This material may not be published, broadcast, rewritten or redistributed. We strive to uphold our values for every story published.