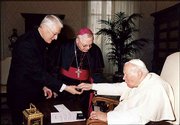 The last thing on Monsignor Vincent Krische's mind when he decided to retire was sitting around on a beach somewhere.
No, when the longtime Lawrence priest, who spent 28 years at the St. Lawrence Catholic Campus Center, decided to call it a formal career at 71 this spring, relaxation wasn't at the top of his list.
His career as a full-time priest may be officially over, but his work never stops.
"He's retired, so that means he only has four or five jobs," jokes the Rev. Steve Beseau, current director of the center.
In fact, the "retiree" now has two part-time jobs since finishing up as a parish pastor in Prairie Village.
First, he will return to the center in beginning with a welcome Mass at 4 p.m. today. Secondly, Krische plans on traveling around the country, teaching other Catholic centers on secular campuses how to thrive.
It's an active retirement that is the result of a career coming full circle and back to the place Krische — known as "Father Vince" in these parts — feels is a natural home.
"When I left Lawrence, my thought was always that I would come back," he says. "So here I am."
Full-circle
Krische went into the ministry at age 18, spending time in Kansas City and Topeka before making his long stay in Lawrence. His final work as a full-time priest was as a parish priest for St. Ann Catholic Church in Prairie Village, where he spent four years. He asked for retirement this spring and turned his sights west to Lawrence after filling in the voids in his career.
"What happened in the parish that was so good is that I've worked always with college-age people and university people, faculty people, but I'd never worked with the elderly or with the young kids and this really kind of rounded me out, I think," he says.
He'll use that knowledge first in helping students in his old stomping grounds, says Beseau.
"We're going to get him to be a part of St. Lawrence with the liturgical community. He's going to offer Mass and hear confessions, and then he's going to be an ambassador for us to the larger community to talk to people about St. Lawrence and ask for their help," Beseau says. "Hopefully (he will be) doing things that he has a real passion for. He has a real passion for campus ministry."
Consulting
That passion will be evident in his other job — as a consultant of sorts for Petrus Development. The firm's goal, according to John Flynn, former director of development for St. Lawrence and principal and co-founder of Petrus, is to teach campus Catholic centers on secular campuses how to be successful. It's something that Krische knows quite a bit about.
"He enjoys a great reputation. While he was at St. Lawrence, St. Lawrence was ... most certainly recognized as one of the top campus Catholic ministries in the United States," Flynn says. "And a lot of the top campus ministries in the United States today had some exposure to Father Vince or even mentoring from Father Vince in terms of helping them develop their campus ministry."
Flynn believes that Krische can help the firm's clients, which include Stanford, Harvard, Duke, Ohio State and the University of Southern California, learn how to go beyond what he calls a "pizza and Mass" ministry and into something more engaging for the 5.5 million Catholic college students he estimates attend secular institutions.
"They are able to provide Mass, but they aren't able to provide a lot of opportunities in addition to offering Mass," Flynn says of Catholic centers on secular campuses. "Monsignor Vince can really can help the priests or the church or the local laity see the possibilities in terms of expanding the ministry — both from the theological education perspective, sacramental life, social justice."
Krische says it's important to him to work with college-age people specifically because he believes it's an important time in one's religious development.
"One of the things is that people between the ages of 18 and 25, it looks as though that's when they firm up their values for life. These are formed early, perhaps between the ages of 1 and 5, or something like that, but in the college years, they begin to accept what they are really going to follow," he says. "So it's important for us to be there to help them in making that decision."
He also believes it's an important time to impress upon an individual the value in giving back.
"We want to be able to help our students in their professional education to be able to integrate faith along with their profession," he says. "So that they are able to bring perhaps what I call a bigger dimension into their profession, see it in a fuller way, particularly as it seeks to serve society."
Seeking to serve society, as Krische plans to do in retirement. Though, it is retirement after all, and Krische is not all work and no play.
"I'm just happy to be back and I'm looking forward to ... this is going to sound crazy, but I'm going to get to go to every home football game this year. Last year, I could only make one home football game. So that's going to be a lot of fun," he says. "I'm really looking forward to a very dynamic experience here."
Copyright 2018 The Lawrence Journal-World. All rights reserved. This material may not be published, broadcast, rewritten or redistributed. We strive to uphold our values for every story published.