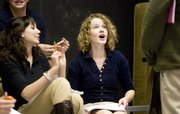 Julia Davidson just feels at home on stage.
"I love the immediate recognition I think everyone feels," she says. "They glow from the inside. They don't have to think, 'I'm doing well,' but you feel it when you get applause."
Davidson has been performing plenty in her life, through ballet, theater and forensics.
Her successful stage presence has earned the Bishop Seabury Academy senior the ArtStar award for the month of April. The award is sponsored by The World Company and Jayhawk Dental.
"I have a hard time keeping up with Julia," says Doug Weaver, theater teacher at Bishop Seabury. "She's so varietal in the things she does, and she is so efficiently good at all the things she does."
Davidson's stage career began at age 3, when she started taking ballet lessons from the Lawrence Arts Center. She's continued to take dance lessons through the years.
But she found her true artistic calling starting in seventh grade, when she started attending Bishop Seabury and being cast in plays.
"I auditioned for the first play thinking I was hot stuff and then getting a small role, and working up from there," she says.
Her favorite productions have been "The Little Prince," which she did as a freshman, and "Waiting for Godot," which she performed in last year.
"It's two acts of no plot. The plot goes nowhere — that's the point," she says of the latter play. 'So we had 10 weeks of that. And I remember Mr. Weaver would have myself and the person playing apart from me walk around the school over and over and over and over and over, reciting lines, just to get the rhythm in our heads."
Davidson says there's plenty of interplay between her dancing and her acting.
"They complement each other a lot," she says. "Dance is a lot more physical — it's creating the most beautiful form you possibly can and working to achieve that, not against others but against yourself. But within dance, you have to emote. Within acting, you have to know your body's limits and how to push them."
In addition to being successful on the theater stage, Davidson has qualified for the state forensics tournament each of the last two years.
Weaver says forensics — competitive acting — changes the way some students present themselves. But not Davidson.
"Julia's one of the few who it doesn't seem to have changed her," Weaver says. "Her approach is the same. She seems less concerned about finishing with a number she can put beside her name and more concerned with doing the best job she can and maximizing that moment she has in the duet (acting) or in the prose."
Weaver says Davidson is a leader in whatever she's doing. In addition to acting, she's a prefect at Bishop Seabury — one of five seniors given a special leadership role at the school — and also previously wrote the "Double Take" teen advice column for the Journal-World.
Davidson currently is performing in "Grease," the final production of her high school career. But she promises it won't be her last time on stage.
She's planning to attend either Macalester College in St. Paul, Minn., or Bennington College in Bennington, Vt. She's not sure what she'll major in — she's hoping to take a variety of liberal arts classes, and that one will capture her enough to make a career out of it. But she knows she'll continue to act.
"If I could make it my career, that would be my dream," she says. "Regardless, I know it'll be on the side, no matter what. And if I could make it onto stage somewhere, I'll be happy."
Copyright 2018 The Lawrence Journal-World. All rights reserved. This material may not be published, broadcast, rewritten or redistributed. We strive to uphold our values for every story published.