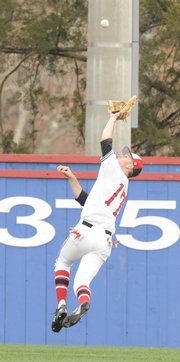 Brad Stoll wasn't just woofing when he placed his pitchers on a pedestal in preseason.
"It's the deepest pitching staff I've ever been around," Lawrence High's baseball coach said.
Taylor Gentry offered further proof as the Lions spilled Blue Valley West, 5-2, in the finale of the River City Festival on Saturday evening at Hoglund Ballpark.
Gentry hadn't started a game all season, but the junior right-hander allowed only three hits and fanned seven during a five-inning stint.
"It was great to get the start," said Gentry, who had pitched three times in relief. "I wanted to prove I could help out."
Essentially, Gentry is the Lions' No. 4 starter behind Albert Minnis, Dorian Green and Andy Urban. But Minnis dislocated the thumb on his right (non-throwing) hand while sliding into third base 10 days ago, and still isn't 100 percent.
Minnis did, however, make his first game appearance since suffering the injury. The junior left-hander retired BV West in order in the seventh inning, fanning two.
"He's been wearing us out asking when we were going to pitch him again," Stoll said of Minnis. "He'll play for money some day and we're not going to rush that."
Quite likely Minnis will receive another starting assignment next week, and that will send Gentry back to the bullpen
"We have a pretty tough rotation," Gentry said. "We have a lot of other arms."
That list includes Ben Wyatt, another junior right-hander who worked a hitless and scoreless sixth inning, also striking out a pair of BV West batters.
"Those two young guys are trying to find their way," Stoll said of Gentry and Wyatt, "and they did a great job."
Gentry was shaky in the first inning. He surrendered a leadoff single, and also walked and hit a batter.
"I didn't really have control of my stuff," Gentry said. "But then I started hitting corners and making pitches."
After that precarious first, Gentry faced only three batters over the minimum in the next four frames. Only one of the two runs he surrendered was earned because of an error on shortstop Aaron Rea.
"He was phenomenal," Minnis said of his mound mate. "He had great stuff. He looked like he had been out there all year."
In a 5-0 loss to Kansas City Ward on Friday night, the Lions squandered seven hits. They managed only six on Saturday against right-hander Henry Zhu, but the Jaguars committed three costly errors.
Tyler Bailey and Jake Green had RBI doubles. Rea singled in a run. The other two scored via miscues.
Lawrence (6-4) will be on the road next week — Tuesday at Leavenworth and Thursday at Olathe Northwest.
Copyright 2017 The Lawrence Journal-World. All rights reserved. This material may not be published, broadcast, rewritten or redistributed. We strive to uphold our values for every story published.