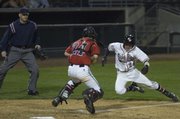 Kansas City, Kan. — Throw the state classification system out the window. It's rendered meaningless when discussing the bona fide talents of Kansas City Ward's "small class" baseball team.
Friday night, Class 4A K.C. Ward downed Class 6A Lawrence High, 5-0, at CommunityAmerica Ballpark on Day Two of the River City Festival.
But the result came as no huge surprise to anyone in the Lions' dugout.
This is a Cyclones team, after all, that is the six-time defending Class 4A state champion.
"They're the best program in the entire state of Kansas, and that's why we want to play them every year," LHS coach Brad Stoll said. "Normally, if you play the way we played tonight, you're going to beat a lot of teams. But you're not going to beat Bishop Ward."
Lions starting pitcher Andy Urban learned firsthand what can happen when mistakes are presented to the Cyclones' lineup.
In the top of the third inning, Urban walked the Nos. 8 and 9 hitters in the Cyclones' order to begin the frame.
"That's what killed me, and that's what got them rallying and gave them a chance," Urban said.
After surrendering an infield single to the top of the lineup to load the bases, Urban left a pitch up to right fielder Alex Orel that resulted in a three-run triple to center.
By inning's end, a pitcher's duel had turned into a 4-0 game, and the Lions wouldn't recover.
"If I missed a pitch, they hit it," Urban said. "They made me pay for every pitch I left up in the zone."
Lawrence didn't leave the diamond without first creating a couple of decent opportunities offensively. The Lions loaded the bases off K.C. Ward starting pitcher Jake Kolenda in the fifth inning thanks to singles from Tanner Kilmer, Dorian Green and Landon Moseley. But the normally big bat of Clint Pinnick couldn't produce, and he went down swinging for the third out. Pinnick again struck out to end the game with runners on first and third.
In total, the Lions stranded nine runners.
"We just didn't make adjustments," Green said. "We didn't do a very good job at the plate backing up Andy."
Kolenda struck out 11 batters for K.C. Ward (5-1), while Urban fanned six. Each team finished with seven hits.
"But their seven hits were when they needed them," Stoll said. "We had guys in scoring position, and we didn't get a big hit. When it was crunch time, we didn't have anybody step up and square one up."
Lawrence (5-4) closes out the River City Festival at 4:30 p.m. today against Blue Valley West at Hoglund Ballpark.
Copyright 2018 The Lawrence Journal-World. All rights reserved. This material may not be published, broadcast, rewritten or redistributed. We strive to uphold our values for every story published.