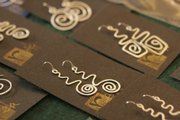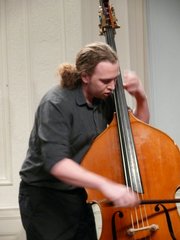 Ozzie Backus V had it pretty good.
Five months removed from a degree from the New England Conservatory of Music, Backus was making a decent living in Puerto Vallarta, Mexico, piecing together solo gigs and playing bass with friends in classical and jazz settings.
Then, he woke up one morning, and his bass was gone from the place he was staying.
"There were no signs of entry or anything," he says. "It was a smack in the face. I was pretty depressed for a couple of weeks. I was in a haze."
That was in December. He moved back to Lawrence shortly afterward.
This was all tough from his mom's perspective.
"I'm his mother, and I can't sit back and watch this happen," says Lauretta Hendricks-Backus, who lives south of Lawrence.
But she adds: "We're not in a position to write him a check like we would have a year ago."
That's because Hendricks-Backus' husband, Ozzie Backus IV, was laid off from his job telecommuting to a California software company in November. And Hendricks-Backus has multiple sclerosis and is unable to work full-time, instead doing a variety of art projects.
She knows times are tough for others, too, so she didn't even think about asking others for help outright. So she turned to her art.
A new bass costs about $18,000. Insurance covered $10,000 of the old bass, and Backus is borrowing $5,000. That leaves the family around $3,000 short.
"I started thinking if I could sell 200 pairs of earrings, that's a significant amount of money," Hendricks-Backus says.
She makes hand-crafted silver earrings that sell for $20 a pair. She calls them "Fun and Funky Earrings."
She's made a good portion of those 200 so far, but has only sold a handful. (She set up a Web site at rettahb.blogspot.com to sell them.)
Backus, 24, is a 2003 graduate of Lawrence High School. He wants to pursue a career as a full-time musician in Los Angeles, both performing classical and jazz and doing orchestral arrangements.
His new bass is being hand-crafted by the Upton Bass company in Connecticut. Without a bass, his livelihood has pretty much been halted.
"It's definitely been stressful," he says.
But having his mom volunteer to help out is easing that.
"I'm so glad and proud of her," he says. "It's a way for her to do her thing and help me out. They're beautiful earrings. I'm so grateful."
And when he gets his new bass?
"I'll be sleeping with it for the next year," he says.
Copyright 2017 The Lawrence Journal-World. All rights reserved. This material may not be published, broadcast, rewritten or redistributed. We strive to uphold our values for every story published.